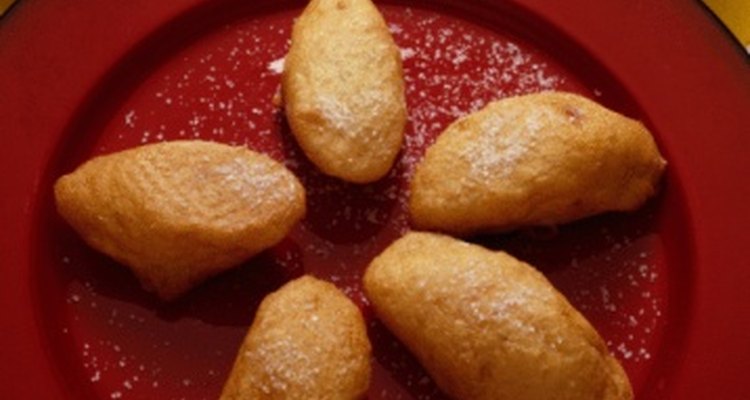 Jupiterimages/Photos.com/Getty Images
They say everything tastes better fried, and fritters are the perfect example. Fritters are food that is dipped in or mixed with batter and then fried. Fritters are savory or sweet, spicy or mild. Fritter recipes exist all around the world and are popular in cuisines of the Caribbean, southeast Asia, Mexico and the United States.
Fruit Fritters
Fruit fritters are considered a type of doughnut with a slightly different recipe. Desserts similar to a fritter include churros, funnel cakes and crullers. The simple fritter batter is fried with diced fruits like apples, apricot and pineapple already mixed in the batter. The other way to make a fruit fritter is to dip the fruit in batter, which is the method used for making banana fritters. Fruit fritters are often dusted with powdered sugar.
Vegetable Fritters
Fritter batter is essentially plain, so savory fritters are best made with chopped vegetables and spices. Corn fritters are among the most popular and are made by adding cornmeal, steamed or roasted kernels or creamed corn. Fritters are made with julienned zucchini, potatoes and carrots to make a version of the potato latke, which is also be considered a fritter. Essentially all tempura fried vegetables are fritters, since they are batter dipped and fried. Other vegetables that work well in fritters include mushrooms, squash, peas, okra, onion, artichoke and jalapeno.
Meat and Seafood Fritters
Fritters also include proteins to make a complete meal. Popular seafood fritters include prawn and shrimp, clam, oyster, salmon, conch, salt fish and cod fritters. The classic crabcake also is considered a fritter. Meat fritters are usually paired with a vegetable like onions or leeks and are a simple dish to whip up with leftovers. Meats that are usually included in fritter batter are roast beef, ground beef, ground lamb and ham.
Bean Fritters
Bean fritters either partially or completely replace flour with mashed beans or bean flour. Bean fritters are often made using vegetables, cheese and chili peppers in the mixture. Types of beans used to make fritters include chickpeas, black beans, kidney beans, soy beans, fava beans and red beans. Bean fritters make a good vegan meal if made without egg.
References
Photo Credits
Jupiterimages/Photos.com/Getty Images