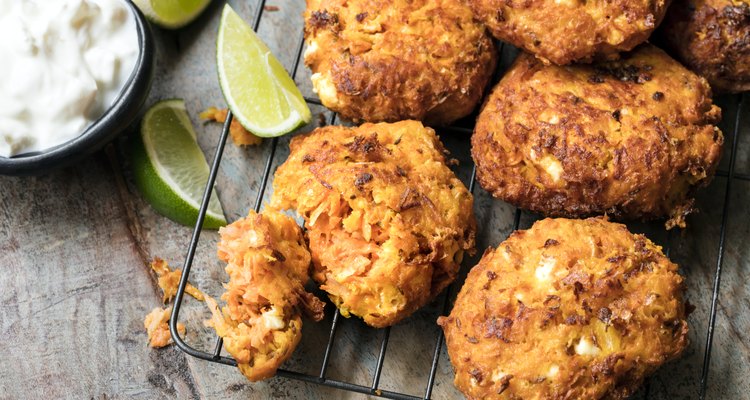 robynmac/iStock/GettyImages
Fresh seafood and eclectic cuisine are synonymous with the Caribbean Islands. The warm Caribbean waters host a diverse array of shellfish, including the sweetest, meatiest conch you'll find. Caribbean conch fritters are an island staple, but you don't need an island vacation -- or a deep-fryer -- to enjoy them. Conch fritters don't require deep-frying to puff up to golden-brown crispness, just a basic batter, a muffin pan and an oven. You're not limited to Caribbean flavors, either, when baking conch fritters. Just use fresh, in-season produce and sweet, white conch meat, and you can't go wrong.
Combine a basic fritter batter in two mixing bowls, with the dry ingredients in one bowl and the wet ingredients in the other. Pour the wet ingredients into the dry. A basic fritter batter consists of a 3:2:1 ratio of all-purpose flour to milk to beaten eggs.
When broken down into kitchen measurements, fritter batter comprises 1-cup all-purpose flour to 3/4-cup whole milk to 1/2-cup beaten eggs.
Add a pinch of salt, a pinch of baking powder and a drizzle of oil or melted butter for velvety mouthfeel. Stir the batter together until barely combined, about 5 to 10 seconds.
Add finely chopped, drained conch meat, spices and aromatic ingredients, such as lime juice, minced garlic and diced peppers and onions, to the batter. Fold the conch, aromatics and spices into the batter.
Rest the fritter batter in the refrigerator, covered, for about 2 to 3 hours. The batter will slightly ferment and hold better if you do so.
Heat the oven to 400 degrees Fahrenheit. Coat the cups of a non-stick mini-muffin pan with vegetable oil or melted butter.
Spoon 1 tablespoon of batter into each cup. Place the muffin pan in the oven.
Bake the conch fritters until golden brown and a toothpick inserted in the center comes out clean, about 20 minutes.
Take the pan out and turn the conch fritters out onto a plate lined with paper towels. Serve with a condiment or sauce.
References
Tips
Caribbean-style conch fritters contain various blends of spices, according to region, but you can use a prepared Jamaican jerk blend that has a balance of spicy and sweet Caribbean spices.
Caribbean-style conch fritters almost always contain equal parts diced red bell peppers, diced green bell peppers and diced onions, along with minced garlic to taste. You can, of course, add your own aromatic ingredients.
You can use a regular muffin pan or paper muffin cups, but the fritters will be a bit wider than usual.
Depending on where you buy the conch, you might see a variety labelled "scungilli" or "scungilli conch." Scungilli is a cold-water conch that's smaller than Florida and Caribbean conch and doesn't have the characteristic sweet taste.
Writer Bio
A.J. Andrews' work has appeared in Food and Wine, Fricote and "BBC Good Food." He lives in Europe where he bakes with wild yeast, milks goats for cheese and prepares for the Court of Master Sommeliers level II exam. Andrews received formal training at Le Cordon Bleu.