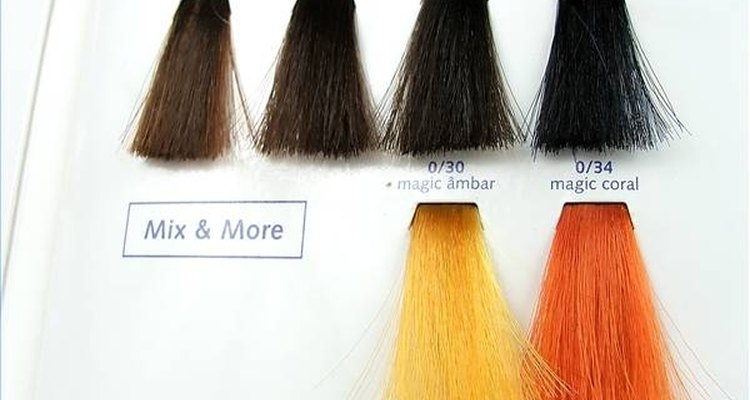 Many women have had the misfortune of experiencing hair dye nightmares, whether it be by their own hand or a stylist. The first step in dealing with an unwanted permanent hair color is to remain calm. Even though it may be called "permanent," your hair color can be removed, one way or another.
Home Hair Color
Home hair color kits are the worst culprits for hair dye nightmares. The small color swatches or the shade the model is showing on the box isn't always accurate. Avoid making a mistake by assessing a few things before you color.
Have you ever dyed your hair? Do you use hair products, such as gels, mousses or hairsprays? Is your hair already damaged? If your hair has any kind of damage, your results can be compromised. When hair gets damaged, it becomes porous, meaning it will absorb more dye. This can lead to unexpected dye jobs, such as dark brown resulting in black ends with dark brown roots. This is because the ends of your hair have been more exposed to damage than your roots, therefore absorbing more dye. For people who don't use a lot of styling products, or who have never dyed their hair before, the hair dye will be closer to the color it's supposed to be, because there is minimal damage in hair that hasn't been exposed to chemicals, heating irons or hair color.
Hair color removal kits are available at any store that sells haircare products. Purchase these kits immediately or within a day after your hair color "accident," for best results.
There are negative side effects that can occur when using at-home hair dye remover. First, the smell is terrible, and can take several shampoos before the odor goes away. Second, some hair dye removal kits can cause patchy, bleaching effects, if hair is damaged or if the remover is left in too long.
Contact Your Stylist
The best way to remove unwanted permanent hair color is to talk to your stylist immediately. Most stylists believe you have between 48 and 72 hours to come in for a hair color removal treatment. If it's a situation where the stylist is the one who made a hair color "oops," give him the chance to fix his error. Often, if you are unsatisfied with the color a stylist has applied to your hair, he will do a color correction for no additional charge. Color correction at a salon is not an instant fix and may take a few visits, so patience is vital.
Get a Haircut
If you sincerely hate the shade that your hair has been dyed, and you don't want to further damage your hair with chemicals, cut it off. This is an adventurous course of action, but you may find that a cute pixie cut looks better than an ugly dye job. Plus, it will give you the opportunity to explore different styles. Who knows? You may end up loving a short, sassy hairdo. Another advantage is that you will start with a clean palette; any damage to your locks will be gone once they get cut off.