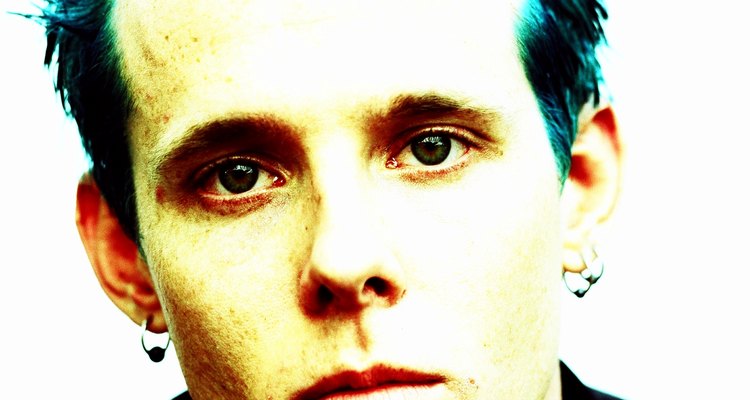 Photos.com/Photos.com/Getty Images
Kool-Aid makes an ideal hair color for costume parties, emo looks and hairstyles that require a funky and offbeat color. You can purchase inexpensive packets of color that successfully transform lighter colored hair into a bold and vibrant shade. While the new hue may be fun for a short time and will eventually shampoo out, you may want to remove it sooner. Try one of these do-it-yourself fading techniques to speed up the natural process.
Fill a tub with hot water and saturate your hair completely. This will help to fade and possibly remove the color if you do it within the first 72 hours. While the hair is saturated, agitate it with your hands to stir up the color. Rinse thoroughly with clean hot water.
Wash your hair with a dandruff or clarifying shampoo to help fade the color.
Apply a nickel-size amount of laundry detergent or dish soap to your hair. Work the hair into a lather and rinse clean.
Use a hair dye color remover kit from a drugstore or beauty store. Read through the directions entirely. Make sure your hair is completely dry and free of other cleaning products before applying the remover. Mix the color removal solution according to the directions. Comb through your hair to remove any tangles and apply the solution to the area of the hair that contains Kool-Aid.
Apply the color removal solution like an at-home hair dye kit if your entire head is saturated with color. Begin with the hairline around the entire head and create a center part from your forehead to the tip of your crown. Apply the solution to the center part of your hair and massage it in with your fingertips.
Move 1 inch to the left of the center part and apply the solution. Continue moving 1 inch to the left until you cover the entire left side. Repeat the process from the center part moving to the right side of the head. Complete the application with the back of the head. Set a timer for the number of minutes the manufacturer recommends.
Rinse your hair thoroughly in lukewarm water to remove the hair dye. Apply the conditioning treatment from the kit to your hair. Leave on for five minutes and then rinse.
References
Writer Bio
Tabitha Harwell has been writing since 2008, with articles appearing in local publications and various websites. Her background includes a career in the fashion and beauty industry. Harwell holds a Bachelor of Arts in public relations.
Photo Credits
Photos.com/Photos.com/Getty Images