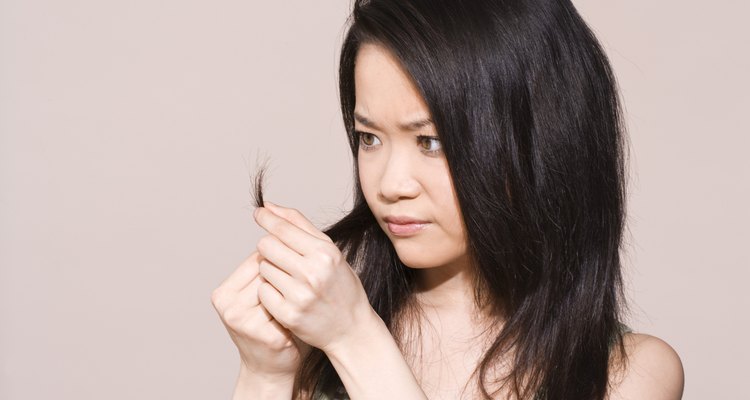 Jupiterimages/Pixland/Getty Images
Hair color adds vibrance and shimmer to dull hair. Revlon manufactures many hair supplies, including Colorsilk, a hair coloring product for use at home. Colorsilk's Dark Ash shade is perfect for those wanting cool tones, such as blue or violet, as opposed to yellow or orange undertones. Applying Revlon Colorsilk in Dark Ash is easy, if you follow basic hair coloring instructions. The key to beautiful color is the correct application of the hair coloring product.
Comb your hair into four separate sections: the top, back and sides of your head. Secure each section with an alligator clip. Wrap a towel around the back of your neck to catch any hair color spills.
Put on the latex gloves included in the Revlon Colorsilk package. Empty the included colorant into the developer. Secure the lid and shake to mix. Snip the tip of the developer bottle.
Remove an alligator clip from one side of your head. Start at the roots on the top of the head. Squeeze the bottle to apply the color. Continue down the side of your head by combing hair up and over the side of your head to give you full access to your roots.
Color the remaining sections of your hair by first applying color to your roots. Once the roots are finished, color the remaining hair. Comb the color through your hair to spread it evenly.
Time the color for 25 minutes. Add an extra five minutes for gray hair. Rinse the color from your hair with warm water until no visible color remains in the water.
Apply the included conditioner to your hair. Work the entire contents of the conditioner evenly through your hair by massaging. Wait two minutes and then rinse with warm water.