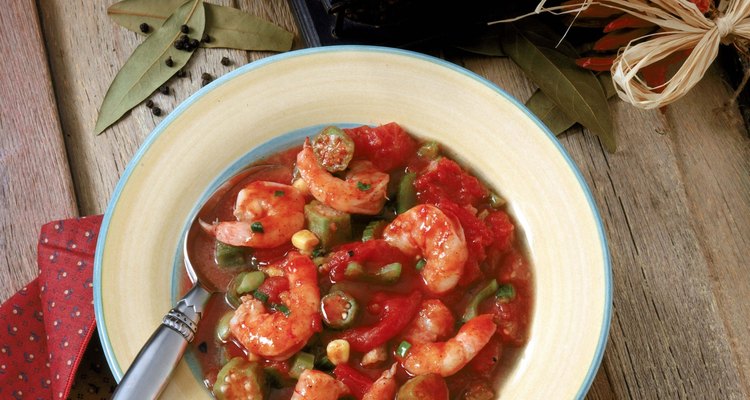 Jupiterimages/Comstock/Getty Images
One of the staples of Cajun cooking is gumbo. Gumbo is made many different ways, but the common ingredients include the holy trinity -- bell peppers, celery, and onion -- as well as proteins like chicken, shrimp and pork sausage, spices, and stock. Most gumbos are thickened by making a roux, which is an equal amount of fat and flour cooked until it is a deep brown or darker, which is then added to the broth base of the gumbo. However, there are other ways to thicken gumbo, including cornstarch and okra.
Cornstarch-Thickening Method
Step 1
With about an hour to go, create a slurry to add to the gumbo. For every quart of gumbo, mix together 1 tablespoon of cornstarch to 2 tablespoons of cool liquid, such as water or broth to a bowl.
Step 2
Mix well with a whisk. Add the cornstarch slurry to the gumbo.
Step 3
Mix the cornstarch slurry into the gumbo with a wooden spoon. Check the gumbo after 15 minutes to determine whether the gumbo has achieved the desired thickness; if not, add a small amount of slurry to the gumbo. Cook the gumbo for another hour.
Okra-Thickening Method
Step 1
Rinse 1 pound of whole okra under cool running water using a colander. Remove the top and tips from whole pieces of okra with a knife.
Step 2
Cut the okra crossways into 1/2-inch pieces. Reserve the cut okra in a bowl and set aside.
Step 3
Add the okra, about 1 pound for every 5 quarts of gumbo, with about an hour to go. Mix the okra well into the gumbo. Cook the gumbo for an hour before serving,
References
Resources
Tips
Use file powder if you do not have access to okra as file powder thickens in the same manner as okra, Use 1 tablespoon of file powder for every quart of gumbo.
Writer Bio
Based in Virginia Beach, Mark S. Baker has been working in editorial for more than 20 years. He has served as a writer and editor for publications such as the "Houston Post," "Boca Raton News" and "Interactive Week," among others. Baker also has a culinary arts degree from Johnson & Wales University and has his own catering business.
Photo Credits
Jupiterimages/Comstock/Getty Images