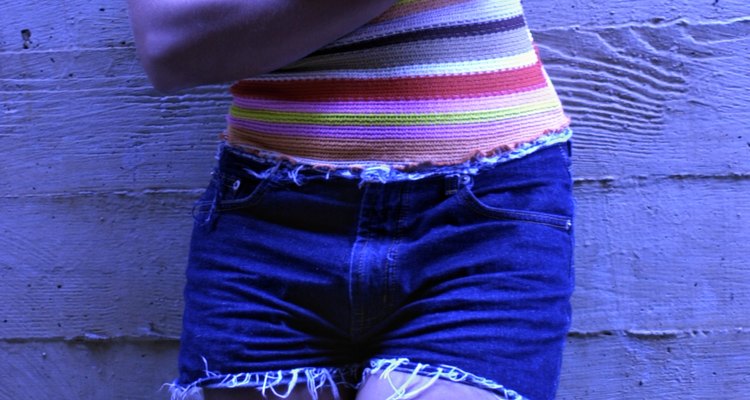 Thinkstock Images/Comstock/Getty Images
Cutoff denim shorts are an American fashion staple, but as the denim ages or your body changes, cutoffs can feel too snug or short for wear. Whether the shorts are high- or low-waisted, distressed or indigo blue, you can stretch denim slightly to achieve a comfier, more casual look. Stretching out jean cutoffs is similar to the methods used to make your jeans roomier.
Spraying the Denim
Step 1
Put on your cutoffs, zipping and snapping them. If you cannot snap the shorts closed, leave them undone.
Step 2
Fill a spray bottle with warm water. Mist your jeans to dampen the fabric, especially at the waist, sides and bottom. Try to button your jeans again.
Step 3
Squat several times in the shorts to stretch them. Bend over and touch your toes to stretch the waist. Exercising in your cutoffs will help you break in the fibers of the jeans.
Step 4
Wear the cutoffs until they dry completely. Store them until you are ready to wear them again. Limit how many times you wash the jeans. Laundering too much can cause them to shrink.
Soaking the Denim
Step 1
Fill a tub half full of warm water. Put on your denim cutoffs.
Step 2
Sit in the warm water for 10 minutes while wearing your jeans. Step out of the tub and drain the water.
Step 3
Towel dry your jean shorts but keep them on. As the jeans dry, they will mold to your shape. Wear the cutoffs for 30 minutes, bending and squatting several times.
Step 4
Take off the shorts and hang them up to air dry. When they are completely dry, they will feel stretched to your shape. Do not place the shorts in the dryer to finish drying. This will shrink them again.
References
Tips
Always add fabric softener to your denim load. Fabric softener will limit fabric stiffening and shrinking.
When shopping for jeans to cut off for shorts, look for jeans made of a 98 percent cotton and a 2 percent spandex blend. This type of fabric will give you a bit more stretch.
Writer Bio
Mimi Bullock's writing reflects her love of traveling the back roads of small towns and sampling the local cuisine. As a regular feature writer for "Southern Hospitality Traveler" and journalist for "Beachin' Magazine," she gets to experience the rich heritage of the southern culture. She is also a licensed cosmetologist who has her own skin care line.
Photo Credits
Thinkstock Images/Comstock/Getty Images