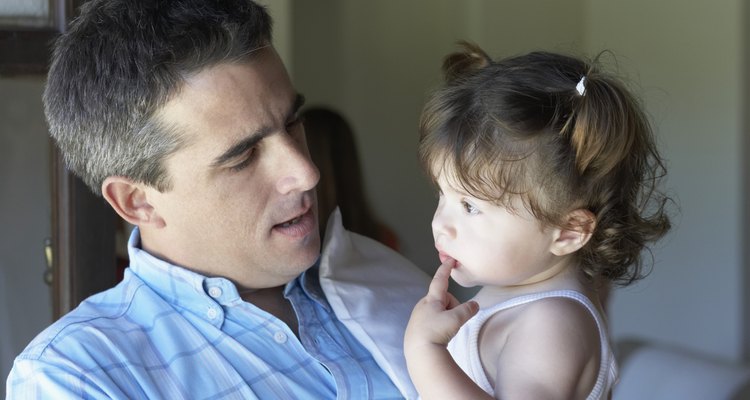 Jack Hollingsworth/Digital Vision/Getty Images
Determining the best time to introduce your toddler to a new man is challenging, but you have some guidelines to follow to ensure that the meeting and future interactions go smoothly. According to a 2007 U.S. Census report on custodial mothers and fathers, "an estimated 13.7 million single parents had custody of 21.8 million children under the age of 21 years of age." So, this isn't an uncommon dilemma for parent of a toddler to find herself dealing with.
Take it Slow
If you've determined that a future exists with this boyfriend and the feeling is mutual, you should take the next step and introduce your toddler to him in small doses. In an article at Education.com, parenting expert Peter J. Favaro, advises "after some time has passed, even young children will expect their mothers and fathers to want companionship, and the children will not be as focused on wanting to reunite the family."
Prepare Your Child
Before the big introduction occurs, prepare your child with a conversation about this new person he will be meeting. Explain how much you care about him and how much you think your child will like him. Highlight future outings and excursions so your child will not feel left out or neglected. Describe the new man in your life so your child will know what to expect. Reassure him that plenty of love will be able to go around for everyone involved.
Choose a Soothing Atmosphere
Have the first introductions in an area where the child is comfortable such as your own home or a familiar playground. This will also give your male friend the ability to interact with him on the play equipment or with his own beloved toys. Save crowded public venues such as restaurants or museums for future outings because you will not be able to predict how your child will respond. Movies, shows or plays would not allow much interaction between your toddler and your new partner. M. Gary Neuman, author of the book "Helping Your Kids Cope with Divorce the Sandcastles Way," suggests selecting a location where the focus will be on an action or an activity and not "getting to know each other better."
Keep it Short
Toddlers do not have long attention spans and introducing this new person to him can be overwhelming. It is best to keep first introductions brief and optimistic. Try to leave on a positive note and don't pressure your child into goodbye hugs or kisses if he is not comfortable doing so. Make the child aware that future meetings and interactions with your boyfriend will occur so he can be even more prepared for the next visit. Praise him for good behavior and manners, if applicable.
References
Photo Credits
Jack Hollingsworth/Digital Vision/Getty Images