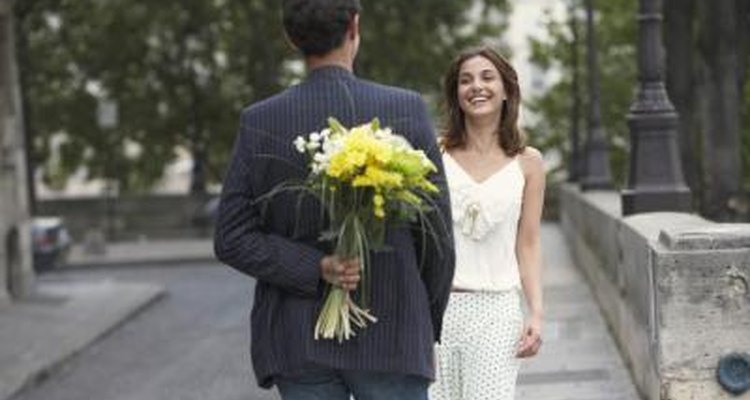 Rayes/Photodisc/Getty Images
Dating is a jungle, and the search for Mr. Right can be both exhilarating and exhausting. For many people, it is not uncommon to have no idea if a man is interested in you even after a few dates. Men try to protect themselves just as you do in those early dating days, often causing them to appear aloof regardless of their feelings. Conversely, sometimes men are just being nice, and what you are reading as interest may be nothing more than kindness. There are a few signs, however, that can tip the scale in your favor as you attempt to gauge a man's interest.
Eye Contact
Does he hold your gaze when the two of you are talking? This speaks volumes about his level of interest, because maintaining eye contact isn't always the most comfortable thing to do. Even more telling is the way he looks at you while conversing. Does that eye contact also come with a smile? Or the quick shifting away of his gaze, as though he suddenly grew nervous? These are signs of his interest in you.
Nervous Energy
Nervous energy can be detected in many ways, and is often a good indicator that he is interested. If he is fidgeting in a way that seems anxious -- rather than bored – your chances are good. Another sign is sweaty palms, or stumbling over his words in conversation. If he is nervous around you, his interest is piqued. Now you have to help set him at ease.
Body Language
There are several body language indicators you can look out for when gauging a man's interest. Around the world, people unconsciously raise and drop their eyebrows briefly when they are introduced to someone they are attracted to. Watch those eyebrows, and you will get your first clue. In addition, if his lips part when he sees you, or he runs his fingers across his tie, it is a safe bet you have him intrigued. He might reach out to smooth your hair, or guide you by putting his arm on the small of your back, expressing his interest with these light touches.
Keeping It Real
Rich Santos, author of the "Marie Claire" column "Sex and the Single Guy," says that when a man begins asking you to join him on mundane dates, he is making his interest clear. This may seem counterintuitive, but according to Santos, it is when guys begin asking you to run errands or go grocery shopping that they are inviting you into their lives. They have decided that they are comfortable enough to spend even informal time with you. So if after a few good dates, he asks you to come over and watch football on a Sunday afternoon, you have probably won him over.
References
Writer Bio
Living in Alaska, Leah Campbell has traveled the world and written extensively on topics relating to infertility, dating, adoption and parenting. She recently released her first book, and holds a psychology degree (with an emphasis in child development and abnormal child psychology) from San Diego State University.
Photo Credits
Rayes/Photodisc/Getty Images