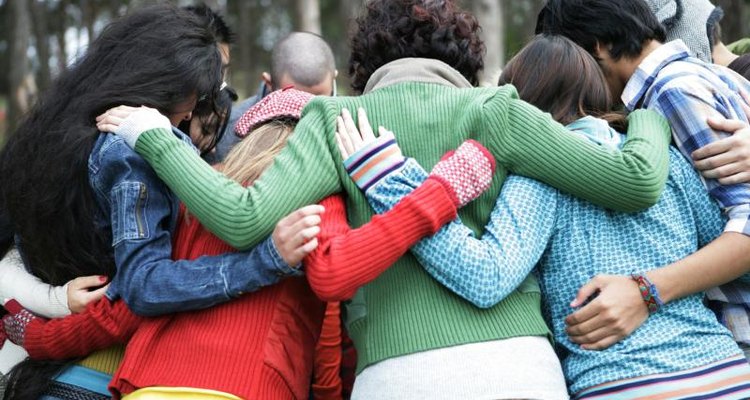 Rinky Dink Images/Eyecandy Images/Getty Images
When a child goes missing, parents are plagued with uncertainty and grief. In some cases, the parents of the missing child may seek out counseling and support from their spiritual leaders. One way to support parents is to offer prayers for them. These types of prayers, referred to as intercessory prayers, ask specific guidance, support and love from a higher being. Although there is no formal format for prayers, some general requests can be made on behalf of parents who are suffering due to events surrounding the abduction or disappearance of their child.
Prayer for Peace
When a child disappears, there may be turmoil and confusion regarding how the disappearance came about. There can also be a lot of disturbance to family life due to media attention or inquiries by police and others close to the event. In such a case, a prayer for peace is appropriate. The prayer need only be a simple plea: "Dear God, please grant your peace to the parents of [name of missing child] during this difficult time."
Prayer for Support
As days, weeks and even months pass, attention to a missing child case often dwindles. Authorities may have closed the case, and friends may withdraw to give attention to their own needs and daily lives, leaving the parents of the child feeling abandoned. A brief prayer for support can help parents feel they are surrounded by love and understanding, even as people must return to everyday living concerns — for example, "Most High, surround [name of parents] with your love. Let them feel your spirit of goodness."
Prayer for Guidance
Parents are confronted with many choices when a child is abducted. For instance, they may need to decide whether to ask the authorities to conduct a search for the child or whether to enlist the help of neighbors. In such a time, a prayer for guidance from a higher being may be made, such as, "Dear Father, you know what choices [name of parents] are facing at this time. Grant them wisdom to make the right decisions."
Prayer for Love
The relationship between the couple can become strained as one parent may be tempted to find a place to lay the blame. This situation calls for a prayer that the marriage ties will be strengthened by more love and understanding: "Lord, let your love bring [name of parents] together. Bind their hearts together with understanding and compassion."
References
Writer Bio
Trudie Longren began writing in 2008 for legal publications, including the "American Journal of Criminal Law." She has served as a classroom teacher and legal writing professor. Longren holds a bachelor's degree in international politics, a Juris Doctor and an LL.M. in human rights. She also speaks Spanish and French.
Photo Credits
Rinky Dink Images/Eyecandy Images/Getty Images