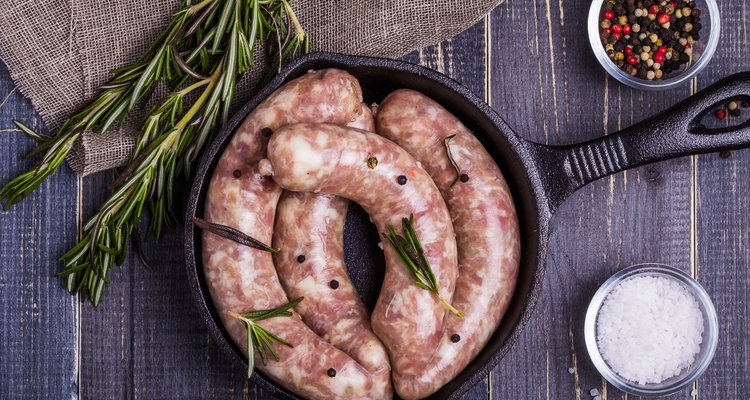 tbralnina/iStock/GettyImages
For those who have a hunter in their circle of acquaintance, venison sausage can make a number of interesting and unusual meals. It tends to be leaner than most sausages, and usually has deeper, richer flavors. Try recipes specifically built around venison sausage, or adapt dishes featuring other types of sausage to create rich, complex flavors.
Roasted, Grilled and Poached
Venison sausage can be used in place of chops or a roast in many settings. Bake a sheet of venison sausages to serve as the centerpiece of a traditional meat-and-potatoes meal, with mashed or baked potatoes and a vegetable side dish. Venison sausages also make a tasty meal when grilled on the barbecue. Serve them on a bun, picnic-style, or on a plate alongside rice, egg noodles or new potatoes. Poach venison sausages and serve them in a sauce made from the poaching liquid. Or cook the sausages in sauerkraut, as is done in many European cuisines.
Pasta and Rice Dishes
The leanness and flavor of venison sausage make it a natural choice for adding spark to rice and pasta dishes. Add wedges of grilled venison sausage as a garnish on a plate of pasta, or cook the sausage in a white or red pasta sauce to infuse the entire dish with venison flavor. Add sliced venison sausage to rice dishes, too. Use slices of sausage and wild mushrooms to add intense flavors to a risotto. Add spicy venison sausage to Spanish-style paella, or use it in place of the andouille in a pot of jambalaya.
Soups or Stews
The cuisines of Europe boast a number of soups and stews that are built around flavorful sausages. One of the best is a Polish specialty called bigos, a rich and hearty stew. Most recipes contain sauerkraut, game and sausage. Use a spicy venison sausage as a replacement for the chorizo in caldo verde, a classic Portuguese soup with potatoes and kale. Several areas around the Mediterranean also feature recipes for a soup of sausages in a tomato broth, often with an aromatic pinch of saffron.
Cold Meals
Sometimes, especially in the heat of midsummer, it's nice to put together a cold meal for the family rather than cook something hot. Set out a platter with two to three kinds of cooked venison sausage, cut into slices, chunks or wedges. Serve them with a green salad and creamy ranch dressing; potato or pasta salad; good bread and butter; and a variety of pickles, condiments and cheeses. Another option, much loved in Europe, is a sausage salad. Toss the sausages with apples, caramelized onions, toasted nuts and your favorite dressing for a light but satisfying cold dish.
References
Writer Bio
Fred Decker is a trained chef and prolific freelance writer. In previous careers, he sold insurance and mutual funds, and was a longtime retailer. He was educated at Memorial University of Newfoundland and the Northern Alberta Institute of Technology. His articles have appeared on numerous home and garden sites including GoneOutdoors, TheNest and eHow.