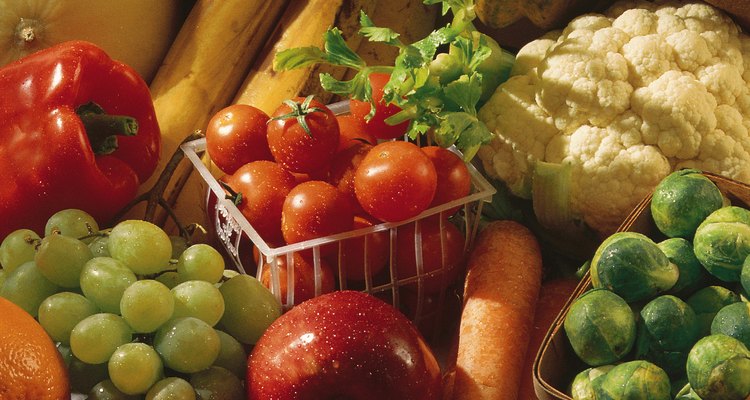 Comstock/Comstock/Getty Images
While it's more common to puree cooked vegetables, you can puree any vegetables raw that you would normally eat raw. A raw puree offers fresh taste and high vitamin content; in particular, raw veggies offer more vitamin C than their cooked counterparts. Lightly cooked vegetables, however, often have higher levels of other antioxidants. Serve raw veggie puree as a chilled soup, such as cucumber soup. Or make a coulis, which is a pureed fruit or vegetable sauce, to complement a sweet or savory dish.
Step 1
Wash the vegetables you plan to puree under running water. Scrub them gently with a brush to remove dirt. Peel the vegetables if necessary, as with carrots or onions. Remove fibrous strands from veggies such as celery and any stems or seeds, as with bell peppers.
Step 2
Cut the raw vegetables into small pieces and put them in your food processor.
Step 3
Add a small amount of cooking oil or melted butter into the food processor to add richness and body to the puree. A bit more liquid helps, too, so pour in a little vegetable stock or juice, cream or even water. Be conservative; you can always put more liquid in but it's much more inconvenient to have to strain it out.
Step 4
Add seasonings. Use a bit of salt and pepper to taste, along with herbs and spices, such as garlic, rosemary or thyme.
Step 5
Secure the lid on the food processor and turn it on to the puree setting. If your model gives you the option to start with a slow churn and increase the speed, do so -- especially if you're using hard raw veggies, such as carrots.
Step 6
Puree the vegetables to the desired consistency. Add more liquid as you go, if necessary. If chunks of vegetables aren't getting pureed, turn off the food processor, remove the lid and use a cooking implement to push them down so the blades can get to them. Secure the lid and continue pureeing.
References
Tips
If you're stuck with some chunks in the puree, push the puree through a medium-mesh strainer bit by bit with the back of a spoon.
For a refreshing cold soup, puree two peeled raw cucumbers with an avocado, some lime juice, a bit of salt, fresh mint leaves and a dash of chili powder.
Writer Bio
Eric Mohrman is a food and drink, travel, and lifestyle writer living with his family in Orlando, Florida. He has professional experience to complement his love of cooking and eating, having worked for 10 years both front- and back-of-house in casual and fine dining restaurants. He has written print and web pieces on food and drink topics for Orlando Style Magazine, CrushBrew Magazine, Agent Magazine, Dollar Stretcher Magazine, The 863 Magazine and other publications.
Photo Credits
Comstock/Comstock/Getty Images