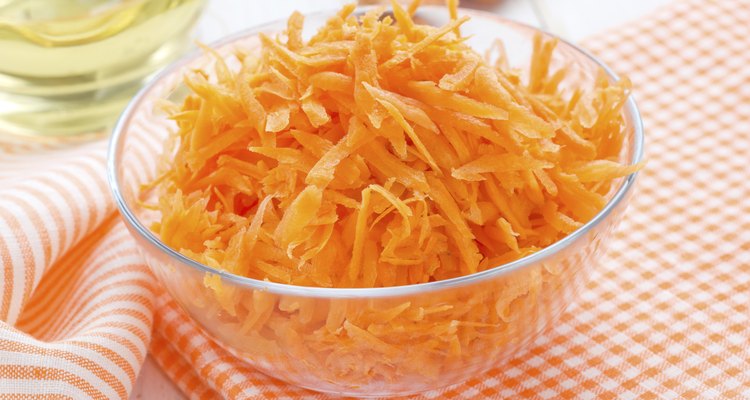 Yelena Yemchuk/iStock/Getty Images
Carrots can be difficult to grate because they are so hard. If you use a handheld grater, you run the risk of scraping your knuckles or fingers. The easiest way to grate carrots is to use a hands-free device with a grater attachment such as a food processor. If you do not have a food processor, you can use a standard cheese grater, but it will be more difficult. For the best results, use a cone-shaped grater, which offers more stability than a flat grater.
Food Processor
Peel the outer layer off the carrots with the vegetable peeler. Cut the carrots in half, width-wise, then in half lengthwise.
Put the grater attachment and the food chute on the food processor. Turn the unit on.
Insert the carrots into the food chute. The food processor will do the rest.
Cheese Grater
Peel the outer layer off the carrots with the vegetable peeler. Keep the carrots intact.
Put the cheese grater on a plate with the desired grating edge facing your dominant hand.
Hold the grate at an angle with your weaker hand. Slide the carrot up and down the grater while applying pressure.
Stop grating when the carrot becomes too unwieldy.
References
"Culinary Arts Principles and Applications"; Michael J. McGreal; 2008
"On Cooking: A Textbook of Culinary Fundamentals (5th Edition)"; Sarah R. Labensky, et al.; 2010
Writer Bio
Max Whitmore is a personal trainer with more than three years experience in individual and group fitness. Whitmore has a Bachelor of Arts in English literature from the University of Cincinnati, fitness certifications and dietetics training from Cincinnati State Technical and Community College. Whitmore has written for several online publishers.
Photo Credits
Yelena Yemchuk/iStock/Getty Images