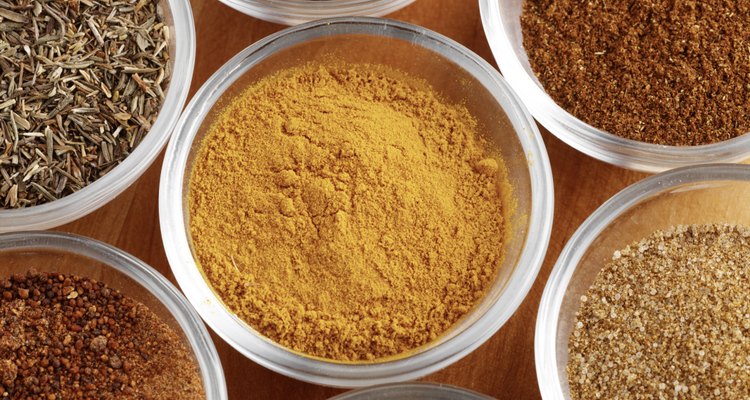 Polka Dot Images/Polka Dot/Getty Images
Blackened seasoning, sometimes called Cajun seasoning, allows you to give meat, fish and poultry a flavorful and characteristically black-brown crust. Most store-bought blackened seasonings come loaded with salt, making them off-limits for diners sticking to a low-sodium diet. But you can make your own blackened seasoning at home and omit the salt. It's less expensive than buying pre-mixed versions, and you can play with the proportions until it suits your taste exactly. Make a big batch and store it in your spice cabinet for whenever the mood strikes.
Step 1
Grind the dried thyme with a mortar and pestle or crush it with a metal spoon. Set aside.
Step 2
Combine 1 part each of oregano, cayenne pepper and ground black pepper in a bowl. Add 3 parts ground thyme, onion powder and garlic powder, as well as 4 parts paprika. For example, to make 1/2 cup of Cajun seasoning, you'll need 2 teaspoons each of oregano, cayenne and black pepper, 6 teaspoons each of thyme, garlic powder and onion powder, and 8 teaspoons of paprika.
Step 3
Mix the spices together until they are thoroughly combined. Store in an airtight container in a cool, dry place. The spice mixture won't spoil, but it may become less potent after six months.
References
Writer Bio
Irena Eaves began writing professionally in 2005. She has been published on several websites including RedPlum, CollegeDegreeReport.com and AutoInsuranceTips.com. Eaves holds a Bachelor of Science in journalism from Boston University.
Photo Credits
Polka Dot Images/Polka Dot/Getty Images