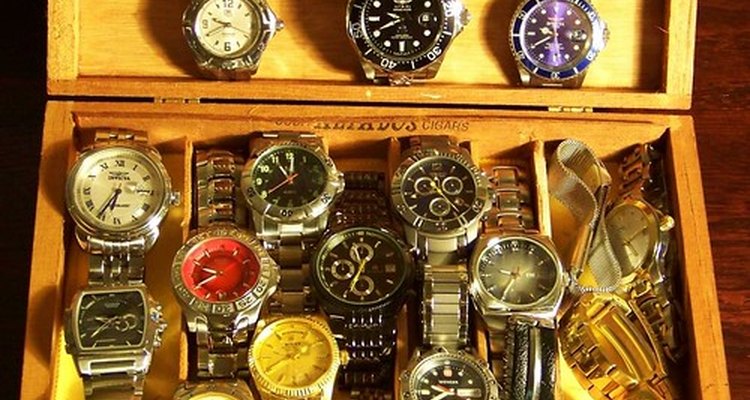 "My Metal Banded Watches" is Copyrighted by Flickr user: alexkerhead (Alexander Rushing) under the Creative Commons Attribution license.
Kinetic and Eco-Drive are two of today's most popular choices when it comes to maintenance free, eco-friendly watches. Comparatively similar in features, function and "ecological friendliness," pros and cons of the two are very similar. The main difference between them is the mechanism used to convert energy into power. Choosing between the two depends on which platform you prefer or which best fits your lifestyle.
Kinetic Watches
Kinetic watches use energy created from movement for power. Oscillating weights built inside the watch swing with movement, creating energy that is turned into a magnetic charge then converted by the capacitor into electricity for it to run. The watch has a sensor that indicates when power is low and even goes into a power-saving mode during periods of nonuse. Kinetic watches have the ability to go years in suspended mode without needing to be "recharged."
Eco-Drive Watches
An Eco-Drive watch uses light derived from the sun or another light-powered source to generate its power. The light is absorbed through the watch face, directed to a small solar cell inside and converted by the capacitor into usable power. Like kinetic watches, Eco-Drive watches also have a power-saving or hibernation mode to conserve energy when not in use. The watch contains a titanium lithium-ion battery where the converted energy is stored. Since the battery is used for storage only, it remains intact for years.
History
Kinetic Watches The kinetic watch was developed by the Seiko Watch Corporation in the '80s and was first unveiled to the public at a European watch fair in 1986. At the time of its release, it was marketed and sold under the name AGM. Over the last 20 years, Seiko has worked to refine and develop the platform, allowing for additional features and styles to be added to the line.
Eco-Drive Watches First put on the market in 1995, Eco-Drive is the name of the solar-powered line designed and developed by Citizen Watch Company. Eco-Drive watches have become so popular that they now make up 80 percent of Citizen's sales. The company has experimented with a few other "green" designs, releasing the Eco-Drive Duo in 1998 and the Eco-Drive Thermal in 1999. The Duo platform is powered by mechanical and solar power. The Thermal uses the difference between the body and air temperature to create energy. Both designs have proved to be less popular and less reliable than the Eco-Drive.
Considerations
Many kinetic watch owners have experienced problems with the premature failure of the capacitor inside the watch. The capacitor, the device that stores power, replaces the battery and is the key to having a "battery-less" watch. Unfortunately, Seiko has had problems with the capacitor since its introduction into the market and has since had to replace the capacitor with a titanium lithium-ion power cell. Technically the power cell is a rechargeable battery, making Seiko's claims of a battery-less watch untrue. Nevertheless, kinetic watches are still considered maintenance free since the cell should last anywhere between five and 10 years before it needs servicing.
Kinetic watches require constant movement to create the energy needed to run and keep the power cell fully charged. This can become a problem for those who own multiple kinetic watches. Owners must constantly rotate wear from one watch to another to ensure that they are kept sufficiently charged. Watch-winding cases are a convenient way to keep the watches in motion when not in use but they can be quite expensive.
Eco-Drive watches should not be set directly in the sun to charge. The sun will fade the watch face over time, and the extreme heat will overheat the solar panel cells, shortening their life span.
Both watches use titanium lithium-ion batteries to store energy. These are less caustic than regular batteries but are still somewhat toxic to the environment.
What's Next in Eco-friendly Watches
Watch companies have focused on making watches "green" by designing platforms that run without the use of batteries. Kinetic, thermal, solar and even air have all been used to replace the battery as a power source. Today, the movement seems to be much less about finding new power sources than it is about creating less of a carbon footprint in the manufacturing of watches.
Several companies have watches that are made from naturally sustainable materials and are 100 percent recyclable. They are handmade, which cuts down on factory emissions, and packaged and shipped in recycled materials. Some companies even go so far as to ensure the items are shipped via boat and not by air, ensuring even less of a carbon footprint.
References
Writer Bio
Jany Martin is a freelance writer living in Cleveland, Ohio. Her writing covers a wide range of topics including fashion, crafts, health, history and travel. She is currently a freelance copywriter for several local corporations and has worked as a marketing manager in the casino and event design industries. Martin has a Bachelor of Arts in radio/tv/film from San Jose State University.