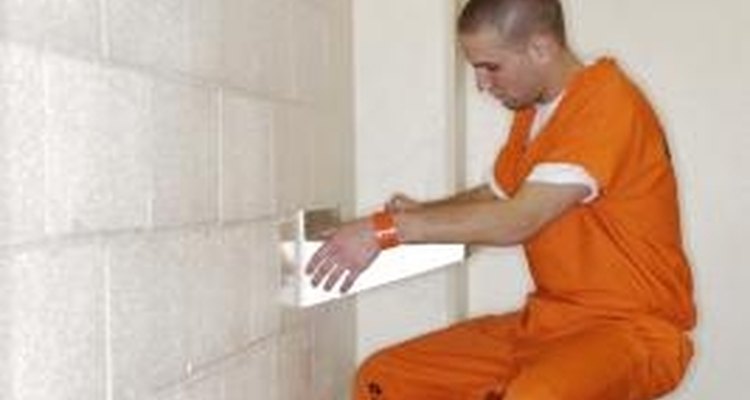 Thinkstock Images/Comstock/Getty Images
When your boyfriend is in prison, he has a lot of time to think about you and how much he would love to be with you. Sending him letters satisfies that yearning until the next time you visit or when he is released. The more exciting your letters are, the more excited he will become.
Maintaining the Connection
Write about the events in your life. It doesn't have to be exciting or traumatic events, just whatever happens throughout the day. You may think it's boring, but he will love to envision you going throughout your day. It will also maintain the connection you have when he knows what is happening with you and the community.
Sexual Fantasies
Since you are not allowed physical contact, you have to turn to the next best thing. Close your eyes and picture the two of you being intimate, then write it down. Be as specific as possible. If writing your sexual fantasies make you uncomfortable, just give him hints such as, "Just wait until you get home...".
Expressing Your Love
Your boyfriend may know you love him, but reminding him in a love letter will make him happy. You can either write a poem or find one to use on the Internet. You can also just write down all the emotions you have for him and tell him your hopes and dreams that include him.
Write a Story About Your Relationship
Be creative and write a story about your relationship. Write about how you met and all the special memories you've shared, or write a made up story that tells of romance and happily ever after. Your boyfriend will love reading it and imagining the two of you in the story. The emotions he will have with this type of letter will encourage him to remain on good behavior so he can be released as soon as possible. That way, he can start living out the make-believe story and make it a reality.
References
Resources
Writer Bio
Marcelina Hardy began counseling in 2000 and started her freelance writing and editing career in 2006. She works as a group editor for the Web site, LoveToKnow and has also published on sites such as LendingTree. Marcelina has a Master of Science in Education in counseling from Old Dominion University and a Bachelor of Arts in psychology from University of Massachusetts at Amherst.
Photo Credits
Thinkstock Images/Comstock/Getty Images