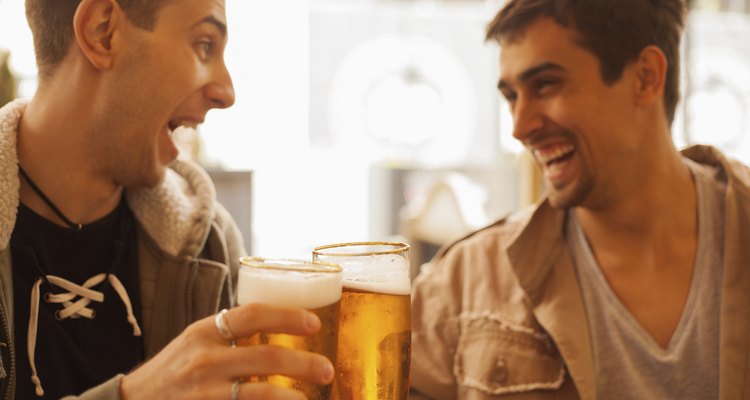 Dangubic/iStock/Getty Images
A bachelor party traditionally occurs in the days or weeks before a wedding and is a time for a groom-to-be to celebrate with his close friends and family before he leaves bachelorhood behind and moves on to married life. Of course, before the debauchery can begin, someone, usually whoever is hosting the party, needs to invite the guests. While hard-copy invitations are still appropriate for formal bachelor parties, you can create electronic invitations online for less formal events. You'll want to be sure that the invitations include all the information that the guests will need to ensure that the revelry goes off without a hitch.
Begin with an fun or exciting tagline. Because bachelor parties are optional for friends of the groom, make sure that the first line of your bachelor party invitation makes guests want to attend. Start with something like, "Let's Get Ready to Rumble!" or "Let's Take the Town by Storm!"
State the name of the event. Include the name of the groom in your event title, such as "Ron's Rockin' Bachelor Party" or "John's Bachelor Party Extravaganza."
List the location of the bachelor party. State the address of the meet-up point for progressive parties that will ramble from one location to the next. Consider including a schedule of events if the party will move to various set locations at appointed times.
State the date of the party, as well as start and end times, such as "6 p.m. to 1 a.m." List tongue-in-cheek, open-ended end times where applicable, such as "till they make us stop!"
Include directions on the invitation. For formal invitations, include a separate slip of paper with directions and a map.
Include a "Notes" section on the invitation to give essential information to guests. For example, you might want to provide a list of activities so guests are prepared. State, "No gifts please," if the bachelor has requested that no one brings gifts to the party. Include suggestions and contact phone numbers for local lodging accommodations if you are inviting out-of-town guests. Inform guests of any additional costs, such as golf fees or cover fees, as well as anything guests should bring like food to barbecue, alcohol or pictures of the groom. State the type of dress required.
Create an R.S.V.P. section of the invitation. Place the letters, "R.S.V.P." on the invitation and list the primary contact person underneath the heading. Set an "R.S.V.P. by" date at least one week before the bachelor party so you know how many guests to accommodate. List a phone number or email address to which guests can R.S.V.P. for the bachelor party. Include response cards in hard-copy invitations for formal bachelor parties.
References
The Playboy Guide to Bachelor Parties; James Oliver Curry; 2003
Writer Bio
With a career spanning business writing and technical commentaries, Jasmine Haryana has been writing and editing since 1996. She received her Bachelor of Arts in English from the University of California, Davis and holds her certification in grant writing from The Foundation Center.
Photo Credits
Dangubic/iStock/Getty Images