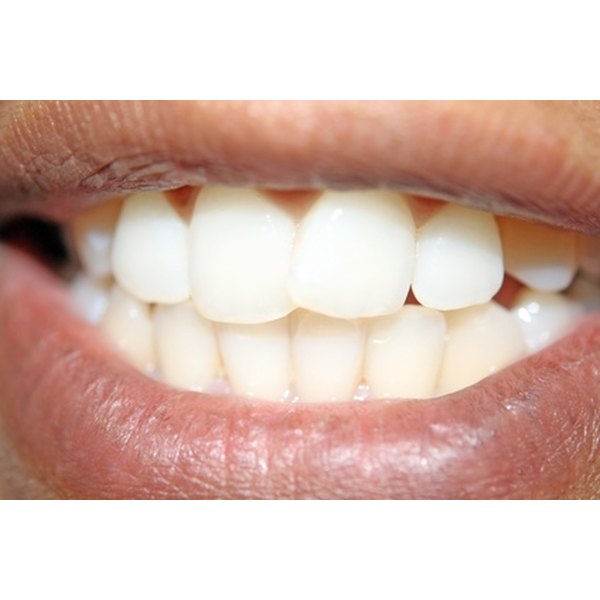 IvoryWhite is a home teeth whitening system that is manufactured in the United States. IvoryWhite helps brighten your teeth and remove surface stains from products like tobacco, coffee, medication and water with too much fluoride. You can purchase packages of IvoryWhite products in a one-month supply, two-month supply or continual renewing subscription. IvoryWhite uses 22 percent carbamide peroxide as its active whitening ingredient.
Items you will need
Toothbrush
Toothpaste
Mirror
Cotton swab
Step 1
Order the home whitening package of your choice online from IvoryWhite's website. Because of the high level of whitening ingredients, you cannot purchase IvoryWhite at your local pharmacy.
Step 2
Brush your teeth as you normally would, paying special attention to the front areas, then floss and rinse. Brushing beforehand will help prepare your teeth and give you brighter, whiter results.
Step 3
Remove the Sure-Fit mouth trays from the IvoryWhite package; try each tray on your upper and bottom teeth to make sure they are comfortable before applying the whitening gel.
Step 4
Open the whitening gel tube and squeeze a small, vertical line onto each tooth slot on the bottom Sure-Fit mouth tray. You will only need to whiten visible teeth, so fill the first eight to 10 slots, depending on the size of your smile. Be careful not to squeeze too much gel into the tray; only a small amount is needed.
Step 5
Place the bottom Sure-Fit mouth tray in your mouth, placing gently along your bottom teeth. Press it firmly into place and remove any excess whitening gel with a cotton swab.
Step 6
Fill the top Sure-Fit mouth tray by repeating the process, this time filling 10 to 12 tooth slots. Most people tend to have a wider smile on top with more visible teeth.
Step 7
Place the top Sure-Fit tray in your mouth and press it securely onto your top row of teeth. Remove any excess gel with a cotton swab.
Step 8
Leave the Sure-Fit trays in for 30 to 60 minutes, depending on the sensitivity of your teeth. For your first whitening session, try 30 minutes and see how you feel before moving up to 60 minutes.
Step 9
Remove the trays from your mouth and use a toothbrush (without toothpaste) to clean any remaining whitening gel from your teeth. Rinse your mouth thoroughly with water.
Step 10
Use a toothbrush (without toothpaste) and cool water to clean your trays after each use, then let them dry completely.
Warnings
Do not wear IvoryWhite Sure-Fit trays while sleeping. If your teeth feel overly sensitive, reduce volume or exposure to the product. If this doesn't work, see a dentist. Do not swallow the product.
Photo Credits
Teeth and Mouth image by Sujit Mahapatra from Fotolia.com