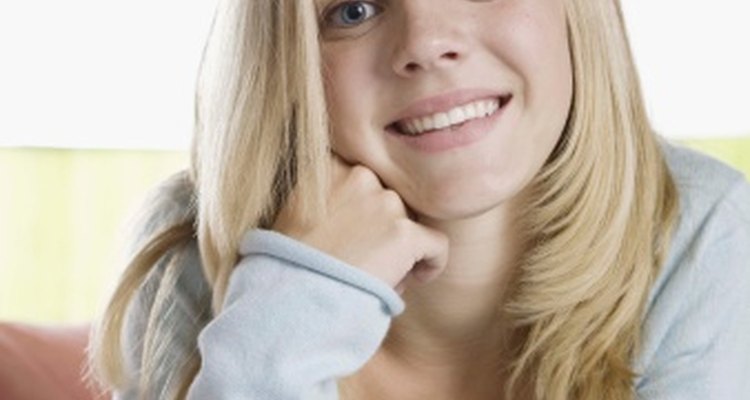 Jupiterimages/Brand X Pictures/Getty Images
Bleaching the hair blonde is a delicate process that requires diligence and care. If you're looking for a pure blonde color that lacks brassiness as well as red and gold tones, one way to accomplish that is by using a toner. The point of a toner is to neutralize unwanted colors from the hair after the initial bleaching, highlighting or dyeing procedures. Toners can help provide the hair with a more natural blonde look that is even and consistent.
Purchase a toner at a drugstore or beauty supply store. Look for a toner that corresponds with your desired hair color, such as platinum blonde, dirty blonde or ash blonde. Most toners are equipped with developer creams that help the products set.
Blend equal parts toner and developer thoroughly in a bowl, generally 2 oz. each (make sure you don't mind if the bowl is ruined by the products).
Apply the solution directly to dry hair with a tint brush. Taking your time, put mixture evenly all over the head. Begin from the roots and work your way out to the rest of the hair. Keep mixture from contacting the scalp, as that could cause minor stinging.
Permit the solution to set for approximately 45 minutes. Sit as still as possible. Periodically look at your hair to ensure that it is processing properly (removing signs of red and gold).
After 45 minutes, rinse the solution from your hair. After making sure that you have successfully removed the unwanted tones, wash all of the toner out with warm water. Finally, dry your hair with a towel. Shampoo and condition your hair as usual.
References
Writer Bio
Lars Tramilton has been writing professionally since 2007. His work has appeared in a variety of online publications, including CareerWorkstation. Tramilton received a bachelor's degree with a focus on elementary education from Kean University.
Photo Credits
Jupiterimages/Brand X Pictures/Getty Images