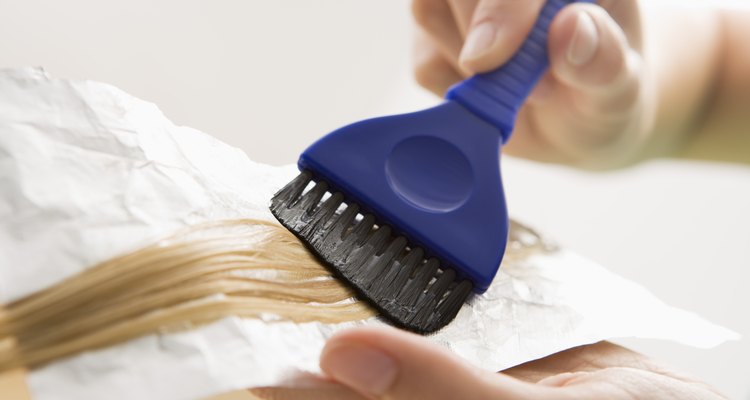 BananaStock/BananaStock/Getty Images
Dying your hair dark with blond highlights can give you a bold look without being overly outrageous. Blond highlights stand out particularly well in hair dyed a deep chestnut brown, auburn or black. Professional dye jobs with distinct foil highlights can be expensive, especially if you have long hair. You can dye your own hair and add your own blond highlights to save money without sacrificing the look you want.
Purchase a permanent dark hair dye. Check the box for samples of what the color will look like depending on your natural color.
Do an allergy test before using the dye on your entire head if you've never colored your hair before or if you've never used the brand you purchased. Most hair dye kits have instructions for conducting an allergy test. If your brand does not, mix together about 1 tsp. of all the ingredients. Smear it on the inside of your elbow. Cover the mixture with a bandage and allow it to sit for 48 hours to make sure you don't have an allergic reaction.
Put on old clothes that you don't mind getting stained. Put on plastic gloves. Have an old towel handy to wipe dye off your face and ears.
Mix the ingredients together according to the instructions. This usually involves pouring developer into a bottle and shaking it to mix the ingredients.
Rub a dime-sized amount of petroleum jelly along your hairline, including around your ears and the back of your neck. This will help prevent the dye from staining your skin.
Work the dye into your hair starting with the roots and moving toward the ends. If you have longer hair, you may want to use a comb to help get the mixture through your hair. Do not use the comb you normally use on your hair to style it. Make sure your hair is completely saturated. Don't overlook the areas around your ears and at the nape of your neck.
Pile your hair on top of your head and wrap a plastic bag tightly around your scalp. Secure the bag with a plastic hair clip. The plastic bag will hold heat in and allow the chemicals to develop.
Leave the dye on your hair for the time specified in the instructions. Rinse it out thoroughly, making sure the water runs completely clear. Apply any conditioner that came with your dye according to the instructions.
Wait at least 48 hours after dying your hair dark to apply the blond highlights. If you have sensitive skin or hair, wait at least a week or see a hair stylist for advice on when it will be safe for you to highlight your hair.
Place the highlighting cap so it is flush against your scalp. Tie it securely under your chin, making sure all of your hair is under the cap.
Use the end of a rattail comb to pull sections of hair through the holes in the highlighting cap. Keep even numbers of sections on both sides of your head so that your highlights are uniform. For blond highlights in dark hair, pull thick sections of hair through the holes instead of small strands for a bolder look.
Mix the highlighting mixture according to the instructions. Spread the mixture through your hair with gloved fingers, making sure to saturate each strand thoroughly on both sides.
Leave the mixture on your hair for the recommended amount of time. Rinse the blond highlighting mixture out with the highlighting cap still on your head. Remove the cap once the water runs clear, and rinse your entire head thoroughly to remove all traces of the highlighting solution.
References
Writer Bio
Amanda Knaebel is a self-professed gadget geek and loves all things tech, both new and old. Amanda has been working as a freelance writer for over 10 years on topics including technology, health, fitness, nutrition, gardening and many more. She has also worked with Fortune 50 tech and financial companies, both in technical support and content production.
Photo Credits
BananaStock/BananaStock/Getty Images