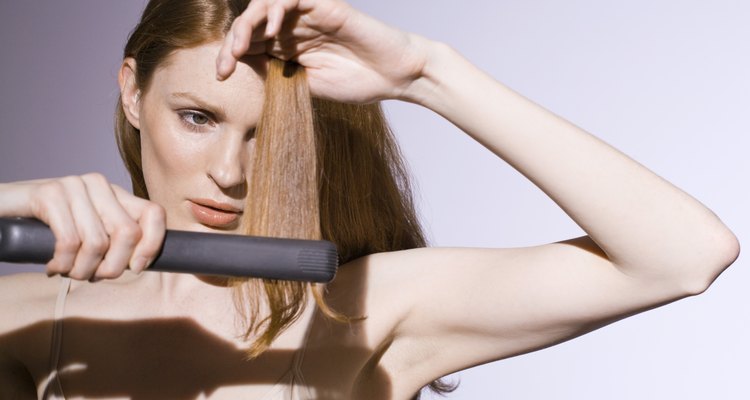 Jupiterimages/Pixland/Getty Images
Farouk Systems, the creator of CHI flat irons, recommends purchasing CHI flat irons from professional salons or authorized dealers. The company website has a store locator to help you find an approved retailer. The company offers warranties only on flat irons purchased at a professional salon or authorized dealer; this does not include any Internet purchases. Proceed with caution before purchasing a CHI flat iron for $47.99 at a low budget-looking website. It might be a fake CHI flat iron. CHI flat irons are expensive and seldom go on sale. If the deal is too good to be true, it is probably a fake. Here's how to tell if a CHI flat iron is authentic.
Examine the CHI logo on the side of the flat iron. The real CHI logo is printed directly in the center of the circle on the handle. A counterfeit CHI flat iron might be slightly off-centered. The lettering might not be very clear.
Check the on/off switch and the LED light. The LED lights on all CHI flat irons are located near the on/off switch, are clear when powered off and red when on. On fake CHI flat irons, the LED light is always red.
Check the label on the inside of the CHI flat iron. Look for engraved company information on the iron. Fake CHI flat irons have a sticker and no engraving, except for CHI Nano flat irons.
Check the Plug on CHI flat irons. Real CHI flat irons have Ground Fault Circuit Interupter with a reset button on the plug. There are a few exceptions; the CHI Digital Nano, the CHI Mini and the CHI Volumizing Iron do not include the GFCI.
References
Writer Bio
Ilene Meeks Gilmore is a freelance writer and editor since 1999. She has written for "The Cupertino Courier" and "The Sunnyvale Sun." Gilmore holds a Bachelor of Science in journalism with a concentration in reporting and editing from San Jose State University.
Photo Credits
Jupiterimages/Pixland/Getty Images