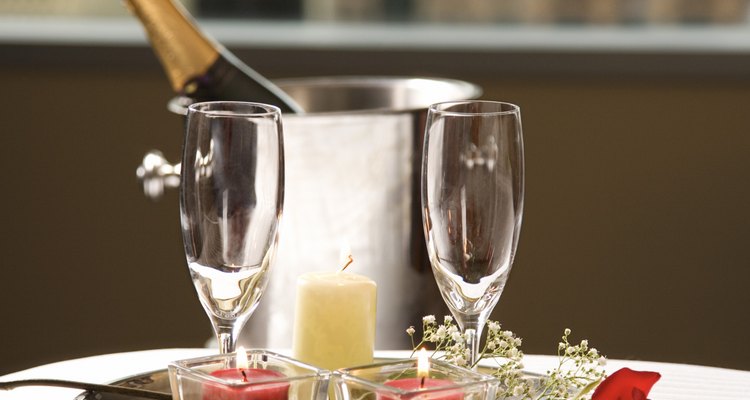 Thinkstock/Comstock/Getty Images
Founded in 1882 by two brothers, Korbel has become a popular sparkling wine brand synonymous with the United States. In fact, as of the date of publication, the sparking wine has the distinction of being served at the past six presidential inaugurations. If you've purchased some Korbel bubbly for a special occasion, you want to make sure you open it correctly. Otherwise a flying cork and erupting champagne bottle may fail to impress your guests.
Remove the foil overlay placed over the cork. Simply peel it away with your fingers and discard.
Twist the key on the wire cage counter-clockwise until you can slide it off and discard.
Wrap a clean towel around the neck and cork of the champagne bottle.
Point the champagne bottle away from all guests or patrons.
Hold the cork firmly with one hand. With your opposite hand, twist the champagne bottle back and forth while gently pulling it away. Continue until you hear the cork release or "sigh." You will also physically feel the release. The Korbel champagne is now ready to pour and toast.
References
Writer Bio
Scott Damon is a Web content specialist who has written for a multitude of websites dating back to 2007. Damon covers a variety of topics including personal finance, small business, sports, food and travel, among many others.
Photo Credits
Thinkstock/Comstock/Getty Images