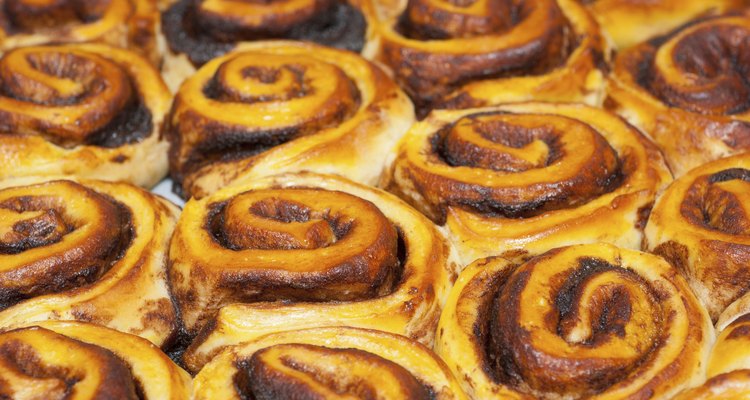 Start to Finish: 45 minutes Servings: 8 rolls Difficulty Level: Beginner
No need to wake up at the crack of dawn to have piping hot, homemade cinnamon rolls for breakfast. They'll be ready in a snap when you make a yeast-free dough, thus eliminating the time necessary for proofing the yeast. Yogurt makes for a tender dough that's so close to the real thing -- you may not notice that you used a shortcut. In just 20 minutes, or less if you're quick, you prep the dough, roll it out and pop these treats in the oven.
Ingredients
2 cups all-purpose flour
3 tablespoons granulated sugar
1 teaspoon baking powder
1/4 teaspoon salt
1/2 teaspoon baking soda
1 cup whole milk plain yogurt
6 tablespoons unsalted butter, melted
3/4 cup brown sugar
2 tablespoons granulated sugar
1 tablespoon ground cinnamon
2 tablespoons butter, melted
Pinch of salt
1 cup powdered sugar
1 tablespoon heavy cream
1/4 teaspoon vanilla extract
Mix the Filling and the Icing
To make the filling, combine the brown sugar, granulated sugar, cinnamon, butter and salt in a small bowl.
To make the icing, stir together the cream, vanilla extract and powdered sugar to make a thick creamy coating of spreadable consistency. If it's too thin, add a bit more powdered sugar.
Make the Dough and Assemble the Rolls
Preheat the oven to 425 degrees Fahrenheit. Spray a 9-inch cake pan with cooking spray, or grease with melted butter.
In a large mixing bowl, stir together the flour, sugar, baking powder, salt and baking soda. Use a wooden spoon to blend in the yogurt and melted butter. Once the ingredients are lightly incorporated and the dough looks a little ragged, use your hands to knead the dough into a light and soft ball -- about 2 minutes. If it feels too sticky, add a little bit more flour.
Turn the dough out onto a lightly floured work surface. Shape the dough into a thick rectangle and use a rolling pin to expand it to about 9 inches by 13 inches. The dough should be about 1/4 inch thick. Spread a light, even layer of filling across the entire rectangle, leaving about 1/4 inch from each edge clear.
Start at the longest side of the dough and use your hands to start to roll it up tightly into a cylinder. Work gently; a thin spatula can help coax up any dough that sticks to the work surface. Seal the edges by pinching the dough with your fingers.
Use a sharp knife or a pastry cutter to cut the dough into 8 equal segments. Arrange these in the greased cake pan; it's OK if they touch.
Bake for 20 to 25 minutes, or until lightly brown and cooked through. Cool in the pan for at least 5 to 10 minutes. Use an offset spatula to spread icing over each cinnamon roll. Pull apart to serve.
Tips
The edges of these cinnamon rolls may appear more unfinished than yeast-based rolls, but this doesn't affect the taste. For smooth-edged rolls, use a long strand of unflavored, unwaxed dental floss to cut the raw dough cylinder into 8 sections.
References
Writer Bio
Andrea Cespedes is a professionally trained chef who has focused studies in nutrition. With more than 20 years of experience in the fitness industry, she coaches cycling and running and teaches Pilates and yoga. She is an American Council on Exercise-certified personal trainer, RYT-200 and has degrees from Princeton and Columbia University.
Photo Credits