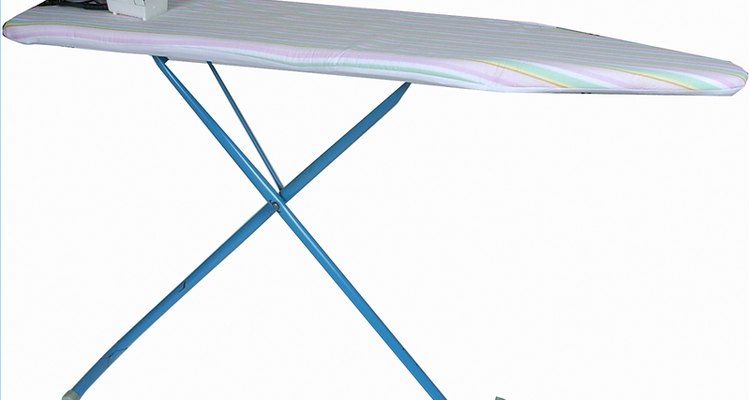 If you're going to the trouble to assemble all the pieces and parts of a tuxedo and then put the uncomfortable and slightly strange suit on, you might as well iron the clothes before wearing them. Making sure that the pants falls straight and the jacket creases only where it's supposed to will keep you looking sharp. Follow these steps to iron or press your tuxedo.
Wash the tuxedo. You should wash the tuxedo according to the instructions on tux's label. Generally, this will mean having the tux professionally laundered or dry cleaned. It's important to start ironing with a clean suit though, so you don't end up permanently pressing stains into the fabric of the tuxedo.
Begin with the pants. Take your clean tuxedo pants and turn them inside out. This will keep you from damaging the external fabric and stripping the satin stripe if there is one. Check the fabric type to adjust the heating setting on the iron. For wool, use a medium setting, and for polyester or other synthetics, use a cooler setting. Begin with the waistband and pockets and then move down to do each leg one at a time. Pay extra attention to the cuffs of the pants.
Iron the tux jacket. To do the jacket, use the same temperature setting as the pants if the material is the same. Place the jacket front side down on the ironing board. Place a thin sheet of cotton or linen over the jacket. Tamp down on the jacket in sections without sliding the iron along the material. Use plenty of water to create steam as you go.
Do the shirt. The shirt should be the simplest part of the job. Remove any cufflinks and unbutton the shirt before ironing. Turn the heat setting on the iron to high. Again using lots of heated water or a spray bottle to wet the shirt, press down hard and keep the iron moving along the shirt. Do the torso and then move to the arms. Turn the cuffs out and the collar up to correctly press each of them.
Continue to the tie and cummerbund. A wrinkled bow tie will spoil the effect of the ironed tux. If the bow tie is a regular tie, lay it out on the ironing board, spray it with water and press down on the tie in sections as you did with the jacket. The cummerbund should be treated the same way. If the bow tie is a clip-on, then carefully nose the iron from the wings of the bow tie to the center.
Writer Bio
This article was written by the CareerTrend team, copy edited and fact checked through a multi-point auditing system, in efforts to ensure our readers only receive the best information. To submit your questions or ideas, or to simply learn more about CareerTrend, contact us [here](http://careertrend.com/about-us).