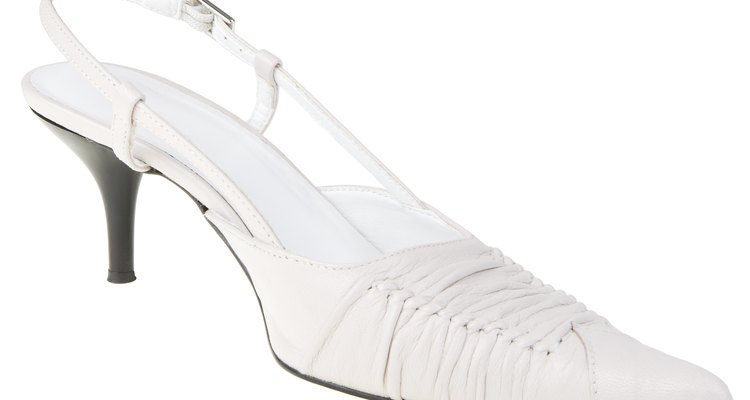 Photos.com/PhotoObjects.net/Getty Images
A slingback shoe can be a comfortable and fashionable alternative to regular pumps or stilettos. That is, so long as the slingback is in good condition. If your slingback shoes are starting to look a little beat up, you'll begin to feel the uncomfortable effects on your heel or in the difficulty you have walking in them. Rather than ditching your favorite pair of slingback shoes for something new, or bringing them to a cobbler who might charge you a high price, try repairing the straps yourself at home.
Make an additional hole in the strap of your slingback with an eyeglass screwdriver. The eyeglass screwdriver is small and sharp, so it can puncture the leather, or other material that your shoe is made out of. This repair technique can help salvage your shoes if the slingback has become too stretched out and no longer hugs your heel properly. By having an extra hole, you can tighten the strap of your slingback around your ankle as you pull the strap through the clasp.
Reattach the broken ends of a slingback with a hot glue gun. If your slingback strap came apart and ended up in two, you can glue it back together. A hot glue gun containing shoe repair glue is strong enough to put your strap back in place.
Insert slingback grips to the back of your slingbacks. Place the grip in between the back strap and your heel where the strap touches your foot. These grips help keep the strap in place on your heel so that the shoe does not move around too much when you wear it. They increase comfort and reduce slippage.
Cover a broken clasp with clear tape. If the clasp on your slingback is loose or not holding your adjustable strap in place properly, you can help keep everything secure by layering clear tape around the clasp. You may need several pieces of clear tape in order to make the tap strong enough to fix the clasp.
Writer Bio
Kyra Sheahan has been a writer for various publications since 2008. Her work has been featured in "The Desert Leaf" and "Kentucky Doc Magazine," covering health and wellness, environmental conservatism and DIY crafts. Sheahan holds an M.B.A. with an emphasis in finance.
Photo Credits
Photos.com/PhotoObjects.net/Getty Images