Lights, camera, action. If you've always wanted to look like a movie star or high fashion model but never had enough courage to give it a shot, you can always take glamour shots of your own to amaze your friends and family with some sexy poses. Glamour shots are meant to be flirty, not dirty. Though there are companies that specialize in producing professional glamour shots, you can also do your own photo shoot at home or outdoors for just the cost of developing the photos. But you'll need to glam up your hair, makeup and clothing before you say cheese.
Items you will need
Camera
Camera lighting (optional)
Backdrop
Fashion magazines
Makeup
Hair supplies
Glamorous top
Step 1
Arrange to have a friend with a good camera take the photos. You can also do your own shots if you have a delayed timer option.
Step 2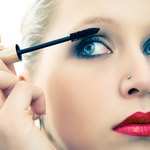 Pick the location for the shoot. If it's indoors, you may need to set up extra lighting to get the best possible shots. Find a backdrop consisting of a bed sheet or other interesting pattern so the focus is on you, not your living room.
Step 3
Look at fashion magazines to find the look you want to recreate. Practice posing in front of a mirror until you are comfortable with smiling on command.
Step 4
Wear a sexy top with sequins, rhinestones or feathers. Anything goes, but make sure the tones are flattering with your coloring.
Step 5
Apply makeup to match the magazine photo you selected. Use eye makeup, foundation, blush and lipstick, but don't go overboard. If you can afford it, get your makeup done by a professional or ask at the makeup department in your local department store if someone can do a makeover.
Step 6
Fix your hair so it looks like you just got out of bed. Curl it, fluff it and tousle it until you get the look you want. Spray with hairspray. You can also go to a salon.
Step 7
Think flirty thoughts and give a welcoming smile to the camera.
Tips
Get a free account with Photobucket, an online photo editor that can transform a good photo into a smashing photo.

Whether you're using a top-of-the-line camera or a small digital one, don't settle for online prints. Take the finished photos to be developed. Pick the shots you like best and reproduce the photos in several sizes.
Photo Credits
Jupiterimages/Comstock/Getty Images