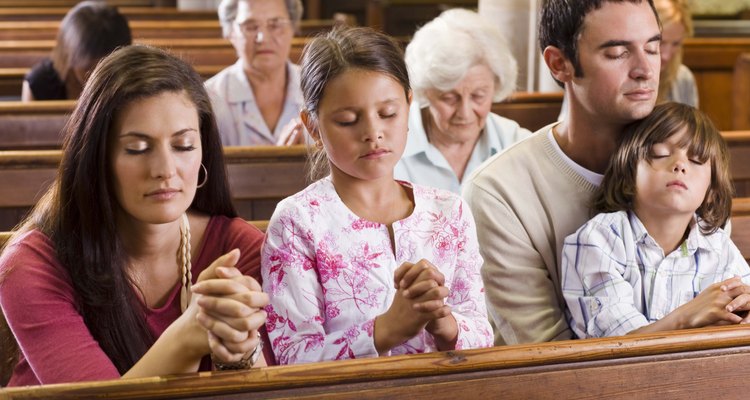 Jupiterimages/Polka Dot/Getty Images
Intercession is prayer to God on behalf of others. New Testament scripture from 1 Timothy 2:1 says: "Therefore I encourage that all supplications, prayers, intercessions, and giving of thanks be made for all people." This verse recommends that Christians regularly make intercessory prayers. Christian churches from every denomination often have specific meetings focused solely on this type of prayer. Here are some steps to take if you would like to know how to conduct such a meeting.
Set a time, date and place. Take into consideration whom you are going to invite so that you plan accordingly. If your meeting is going to be a large group, set a time and place that would be convenient for the majority of them.
Invite people. Use email, Facebook, church bulletins and any other form of communication that would get the word out. Be sure to send out several reminders as the date approaches.
Decide on the format. The format will depend on the size of the group. If you have a group of fewer than 10, you will just need a list of people to pray for. If the group is larger, be prepared to break into smaller groups. Find individuals willing to lead each small group.
Make a list of prayer needs. This can cover a wide range of topics, so be sure to cover the most pressing needs such as hospitalizations, illnesses and any catastrophic events. Try to keep the list to 10 items or less. You might also include praying for governing authorities as suggested in 1 Timothy 2:2: "[Pray] for kings and all who are in authority, that we may lead a quiet and peaceable life in all godliness and reverence."
Begin the meeting. Open with a prayer of thanksgiving and praise.
Guide the participants through your prayer list. Announce each prayer need and then allow about five minutes for people to take turns praying out loud. Be sensitive to the group; if you sense that people want to pray more, allow more time. If it is getting really quiet and people are looking at you or seem distracted, move on to the next prayer need.
End the meeting. Close with another prayer of thanksgiving, reiterating some of the more pressing needs and reaffirming your faith that God will answer your intercessions. Thank everyone for coming and encourage them for their willingness to be a part of the meeting.
References
Writer Bio
Jane Rodda has been a writer since 2004, with articles featured in "Gameday Magazine" and "Urban Family Magazine." She is also the social media director and lead copywriter for a piano instruction website. Rodda holds a Bachelor of Arts in liberal studies with a concentration in psychology from Point Loma Nazarene University.
Photo Credits
Jupiterimages/Polka Dot/Getty Images