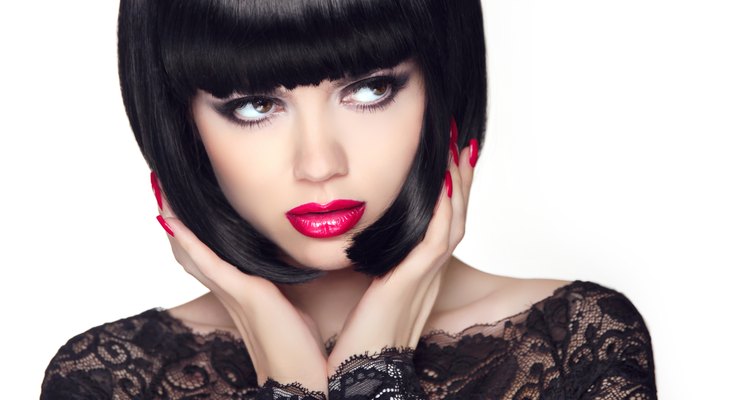 victoriaandreas/iStock/Getty Images
Full lace wigs look natural and stay put when you put them on correctly. They can even be worn during most sports activities without coming off. Put on your full front lace wig the right way so that only you will know that those luxurious locks are not yours.
Put on a flesh-colored wig cap, tucking all of your hair inside the cap. Adjust the wig cap so it sits at your front hairline. If you don't want to wear a wig cap, comb your hair back away from your scalp line.
Trim the lace on the full lace wig. This only needs to be done the first time you use your wig, and it does not need to be done if the lace has already been trimmed by the manufacturer. To trim the lace, put the wig on your head. Use hair clips to fasten the wig hair back away from your scalp line. Trim any lace that sticks out past the wig hairline using a pair of sharp scissors. Cut small amounts of lace at a time to avoid accidentally cutting too much. Be careful not to cut any of the wig hair. Leave a little bit of lace sticking out past the wig hairline, but no more than 1 inch.
Clean the skin by your hairline with a cotton ball dampened with isopropyl alcohol to remove body oils that could prevent the wig adhesive from sticking properly.
Apply scalp protector to the skin by your hairline. This only is necessary if you have sensitive skin.
Attach wig tape to the edges of the full lace wig. The tape is applied to the edges of the lace around the underside of the wig. Wig tape can be used alone or in combination with wig adhesive.
Apply a thin layer of wig adhesive to your scalp using a cotton swab. Allow the wig adhesive to dry for the length of time recommended on the label directions. Wig adhesive can be used alone or in combination with wig tape.
Position the full lace wig on your head. The easiest way to find the front-center of the wig is to part the hair on the wig. Parting the hair will reveal the hairline. The middle of the wig hairline should line up with the middle of your forehead at your hairline. Press down on the edges of the wig for five seconds to make the adhesive stick to your skin. Style the wig as desired.
References
Writer Bio
Rose Kivi has been a writer for more than 10 years. She has a background in the nursing field, wildlife rehabilitation and habitat conservation. Kivi has authored educational textbooks, patient health care pamphlets, animal husbandry guides, outdoor survival manuals and was a contributing writer for two books in the Uncle John's Bathroom Reader Series.
Photo Credits
victoriaandreas/iStock/Getty Images