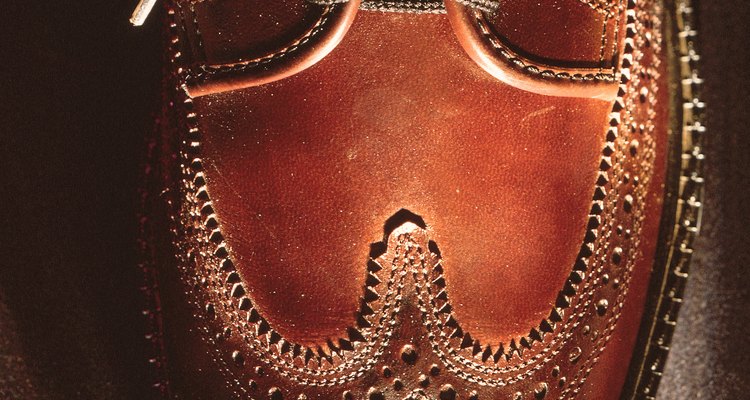 Comstock/Comstock/Getty Images
Burnished brown leather shoes can be polished just like other leather shoes, with some additional care. The burnished leather has a different texture, because it has been buffed to achieve a worn look, with a variation in color and texture. The trick to polishing a burnished brown leather shoe is not to ruin the texture of the shoe. With a few simple steps you can polish your burnished brown leather shoes like a pro.
Brush the brown, burnished leather shoes with a soft-bristled, horse hair brush to remove any dirt and grime that has collected on the shoes.
Place the shoes on a sheet of newspaper to protect the area from the polish and remove the laces from the shoes.
Apply an even layer of brown shoe polish with a clean, dry cloth. Use tight, circular motions to ensure the polish is absorbed into the leather evenly.
Let the polish dry according to the directions on the container. Shoe polish drying times vary depending on the product.
Wipe the polish away, using a clean dry cloth. Repeat the process if necessary. Finish by buffing the shoes with a soft-bristled brush, being careful not to damage the leather.
References
Writer Bio
Jane Frances has been writing since 1995. She has written and edited for a variety of national publications.
Photo Credits
Comstock/Comstock/Getty Images