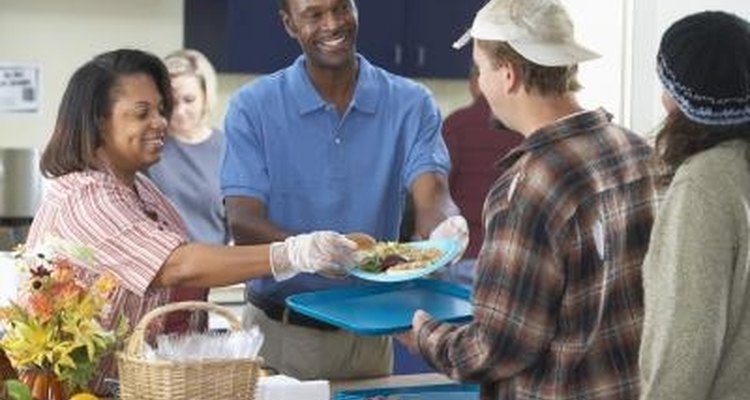 Brand X Pictures/Brand X Pictures/Getty Images
It's common in our culture to operate under the assumption that most people without homes suffer from addiction, or have otherwise created their own problems. However, as 2009 statistics from the National Coalition for the Homeless pointed out, only about 16 percent of the homeless community suffers from addiction. The major contributing factors to homelessness include home foreclosure, systemic poverty, high unemployment rates, a lack of affordable housing and a decline in public assistance programs. Additional factors might include domestic violence, mental illness or a lack of affordable healthcare. If your family member is homeless, there is still hope, and you can help her get back on her feet.
Provide Temporary Shelter
If your family member's house has recently been foreclosed, he has just lost his job or other factors are forcing him to choose between necessities such as food, shelter or medicine, you can offer shelter at your own home. Try setting a time frame and some house rules for your family member, so that he has a way to access low-rent or rent-free housing while he looks for work or pays his medical bills. Of course, if your family member has problems such as addiction, or if he has failed to get back on his feet after staying with you before, you may need to avoid this option for your own health and well-being.
Locate a Crisis Assistance Program
If your family member is in immediate danger of becoming homeless because of a job loss, medical expense or foreclosure, or if she just recently became homeless, you may be able to locate a crisis assistance program in your area. The National Coalition for the Homeless lists emergency fund programs on their website, as does the National Community Action Partnership. There may be enough emergency funds to prevent your family member's homelessness, or to pay for a security deposit and first month's rent on a new place.
Locate Transitional Housing
You can also help your family member by locating transitional housing programs for her. Do some research on local shelters and find out which ones provide social workers, addiction counseling, temporary financial assistance programs and vocational preparation. A good way best to help your family member is to find a program that will give her the tools to improve her own life.
Fund Vocational Training
If one of the major contributing factors to your family member's homelessness is unemployment, you can give him some tools to succeed by offering to fund vocational training. Research GED programs and help him study for the test, or look into scholarships and costs for community college classes. Find out what your family member would like to do for work, and which skills he needs to acquire to become a viable candidate. A local class on computer programs or welding could be the difference between unemployment now and getting a job later.
References
Resources
Writer Bio
Emma Wells has been writing professionally since 2004. She is also a writing instructor, editor and former elementary school teacher. She has a Master's degree in writing and a Bachelor of Arts in English and anthropology. Her creative work has been published in several small literary magazines.
Photo Credits
Brand X Pictures/Brand X Pictures/Getty Images