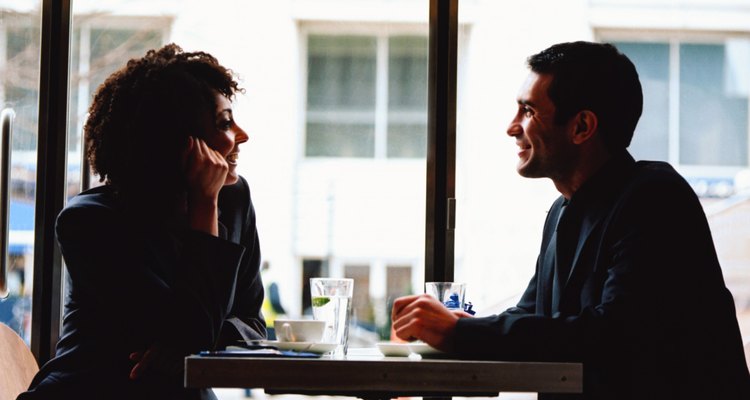 George Doyle/Stockbyte/Getty Images
In this technological age, connecting online and through texting is becoming a popular means of meeting someone new. If you have been communicating with a guy though texts and he has finally come around to suggest that you meet face to face, there are more things to consider besides the apprehension and excitement you may be experiencing. If you have reservations about this meeting then that is natural and healthy. You should always be cautious about meeting up with someone with whom you are not very familiar. There is the possibility that individuals will not be completely honest about some of the information you are given and about what their true intentions are. If you feel comfortable enough to meet up with your texting friend, there are certain things that you should consider.
Find Out a Bit More
A WebMD article entitled "Dating Dangers; Love's a Minefield" recommends transitioning from only typing to having actual phone conversations. Make your intentions clear as to whether you are just looking for something short term or more permanent. Look out for warning signs such as easy it is to get in touch, or that he seems to avoid divulging personal information about himself. It is also okay to do an internet search to check out his online profile and confirm the information that he has given to you.
Choose the Right Setting
It is ideal for this first meeting to take place in a public space with high traffic flow, says TV's "Love Doctor", relationships specialist Terri Orbuch, Ph.D. Such locations include bookstore cafes, public parks, coffee shops, or shopping malls, which have a comfortable atmosphere but which also does not facilitate a long stay. In this way you can feel more secure with not only the presence of lots of other people. In addition the location should not be too noisy in order to allow for conversation. You can both use the opportunity to get to know each other face to face without you feeling insecure or threatened.
Have a Chaperone
Unlike a blind date which has been set up by a relative or friend, with the reputation and character of the guy acknowledged, an extra precaution that you should take when meeting up with someone or the first time is to have a trusted friend or family member accompany you and hang out close by just in case. It is also a good idea to have a designated friend or family member that you call once or twice to let them know where you are and who you are out with.
Keep it Short and Simple
During this first meeting keep the conversation light. You are really trying to get a feel for this guy. If you feel as if it is going nowhere then, based on the setting, you should be able to easily end the encounter. On the other hand, if things go well, you can make plans for a longer meet-up. Terri Orbuch suggests that you and your date meet up separately on this first encounter. Do not have him pick you up at home. Arrive separately and leave separately. He does not even have to walk you to your car. If things don't work out then you have lost nothing and if they do, then he will have many more opportunities to be chivalrous.
References
Writer Bio
Latoya Newman is a novelist who wrote and published her first novel in 2012. She has a background in education, research and counseling. She taught at the elementary level for eight years, and has a Bachelor of Arts in psychology from York University in Toronto, Canada.
Photo Credits
George Doyle/Stockbyte/Getty Images