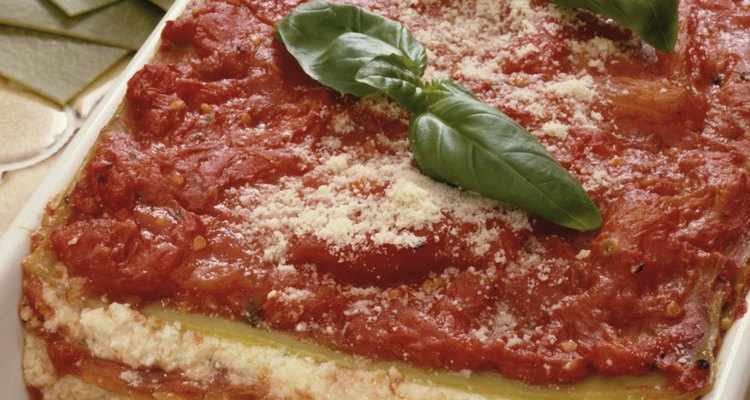 Ablestock.com/AbleStock.com/Getty Images
If the combined demands of work and home life leave you little time or energy to cook entrees for yourself or your family from scratch every evening, consider meals that can be prepared in bulk and will stretch several days when properly refrigerated. If you shop for your ingredients at wholesale markets such as Smart & Final, Sam's and Costco, these meals can also stretch your monthly food budget.
Lasagna
Whether your preferred version is Italian, Mexican or vegetarian, lasagna is easy to cook and often becomes even more flavorful on the second and third days due to the infusion of sauce. It's also good comfort food for work or school lunches. If you have the place to store it in your refrigerator, a 3 qt. cook-and-serve baking dish is a smart choice for your initial batch. For subsequent meals, it's advisable to slice the desired portions and place them in a smaller baking dish for the oven or microwave. If you keep reheating all of the remaining lasagna in its original baking dish, it not only causes the pasta to toughen but makes clean-up a challenge as well. Serve with mixed greens, low-fat salad dressing and garlic bread.
Quiches, Frittatas and Stratas
Quiches, frittatas and stratas are baked dishes that use eggs, heavy cream and cheese to create a custard. Added to this mix are ingredients such as onions, mushrooms, spinach, ham, turkey, shrimp, chicken, pimentos, olives and a variety of spices. Square or rectangular baking dishes work best for slicing portions. As a practical matter, you may want to divide up the full mixture, bake individual portions in 4 oz. glass or ceramic ramekins and stack them in the refrigerator. This is a convenient solution for families whose dinner schedules aren't always compatible with one another. Make a spicy dip on the side or serve with soup and salad.
Stews
Hearty beef stews prepared in a slow-cooker can extend for up to four days in the refrigerator if placed in well-sealed storage containers. Smaller portions of cooked stew can also be put in the freezer and then defrosted as needed. Include fresh vegetables such as onions, carrots, potatoes, mushrooms, green beans, celery and peas. Use cubed top round or chuck roast that has been trimmed of fat and lightly browned first before you put it in the stew pot or slow cooker. A mix of beef stock and red wine keeps everything moist and helps to tenderize the meat as it cooks. Stews can also be made from leftover roasted turkey, chicken and pork.
Casseroles
The simplicity of making casseroles lends itself to a learning experience for young helpers to measure and mix ingredients under your supervision. In addition, casseroles can often be created from common ingredients that you already have on hand in your pantry or refrigerator. These include cream-based soups, uncooked pasta, rice or noodles, grated cheese, fresh or frozen vegetables, bread crumbs and dry herbs. Dice up leftover chicken, pork, ham or turkey. You can even drain canned seafood like albacore tuna and crab meat for your casserole. A 2-1/2 qt. souffle dish is a good size for a casserole. You can also use 6 oz. ramekins for individual servings. Another practical aspect of casseroles is that they can be stored in the freezer in both their uncooked and fully cooked versions for 6-8 weeks.
References
"The Thrifty Cookbook: 476 Ways to Eat Well with Leftovers"; Kate Colquhoun; 2010
"Family Feasts for $75 a Week: A Penny-wise Mom Shares Her Recipe for Cutting Hundreds from Your Monthly Food Bill"; Mary Ostyn; 2009
"The $5 Dinner Mom Cookbook: 200 Recipes for Quick, Delicious, and Nourishing Meals That Are Easy on the Budget and a Snap to Prepare"; Erin Chase; 2009
"Good Housekeeping: Best One-Dish Meals: Delicious Casseroles, Frittatas, Roasts, Stews and Stir-Fries"; Good Housekeeping; 2010
Writer Bio
Ghostwriter and film consultant Christina Hamlett has written professionally since 1970. Her credits include many books, plays, optioned features, articles and interviews. Publishers include HarperCollins, Michael Wiese Productions, "PLAYS," "Writer's Digest" and "The Writer." She holds a B.A. in communications (emphasis on audience analysis and message design) from California State University, Sacramento. She also travels extensively and is a gourmet chef.
Photo Credits
Ablestock.com/AbleStock.com/Getty Images