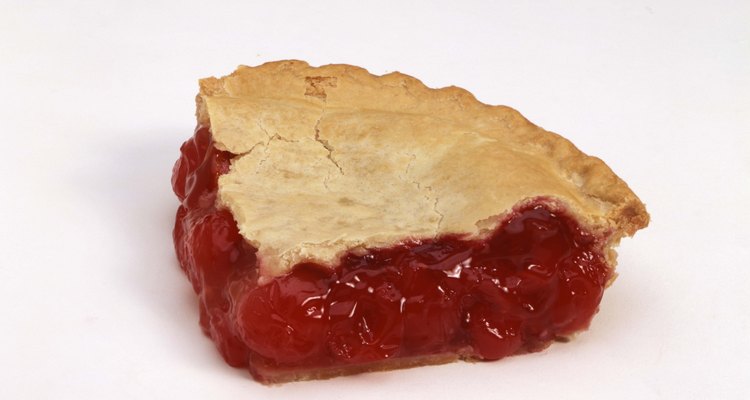 Jupiterimages/Stockbyte/Getty Images
Crescent rolls and pie crust are quite similar. Both types of pastry are flaky and richly flavored with butter or shortening. The primary difference between them is that crescent rolls contain a leavening agent, which causes their tissue-thin layers to rise and become fluffy bread. You can substitute crescent rolls for standard pie crust to create a lighter, softer shell for cherry pie. Depending on how you form the crescent roll crust, you can tailor it to have a thin and dense texture, like traditional pie crust, or a light and fluffy texture that resembles a breakfast pastry.
Easy As Pie
Store-bought prepared cherry pie filling is the easiest way to fill your pie. But making the filling from scratch only requires three ingredients and a few minutes of your time. You need approximately 1 1 /2 pounds of pitted cherries to fill an 8- or 9-inch pie. In a bowl, mix the cherries with 1 cup of granulated sugar and 3 tablespoons of cornstarch for every 1 1/2 pounds of cherries you use. You can add vanilla extract, citrus zest, citrus juice, flavored liqueur or honey to enhance the filling, if you wish.
Make a Thin, Traditional Crust
To make a traditional-style pie crust, lay the triangles of crescent roll dough side by side across the bottom and side of an 8- or 9-inch pie dish. Press the dough flat with your fingertips, taking care to press the triangles together along the seams where they meet so that there aren't any gaps in the crust. Press the dough until it is about one-half as thick as it was before you flattened it. You should not be able to see through it.
Make a Fluffy, Pastrylike Crust
For a fluffy crust, lay the triangles of crescent roll dough across the bottom and side of a pie dish, overlapping the edges so there are no gaps in the crust. Fold the triangles in half before placing them in the dish to create an extra-thick crust. You may need to press the dough against the side of the dish slightly to force the triangles to stay. Otherwise avoid pressing the dough.
Fill and Finish the Pie
Pour the cherry filling in the dish. To form a thin, traditional top crust, lay the remaining triangles of dough side by side on your work surface, and press them into a circle large enough to cover the pie. Then, transfer the pastry circle onto the pie. To form a thicker top crust, lay triangles of dough on top of the pie, overlapping them. Roll or fold down the excess dough that extends past the rim of the dish. Bake the pie at 375 degrees Fahrenheit until the crust is golden and the cherries are tender.
References
Writer Bio
Lamar Grey has been writing about cooking and food culture since 2010. He has ghostwritten eight cookbooks. Grey entered the culinary industry in 2003 as a prep cook in a full-service restaurant. He subsequently served as a baker and head cook on three award-winning kitchen staffs.
Photo Credits
Jupiterimages/Stockbyte/Getty Images