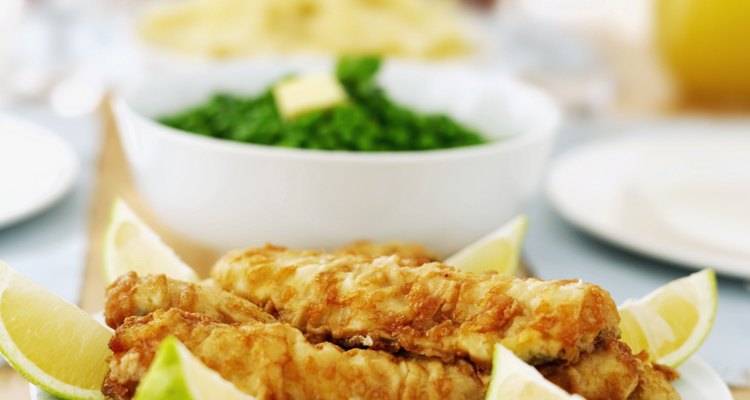 George Doyle/Stockbyte/Getty Images
Chicken is a dinner staple for many families. It can be a casual weeknight dinner or dressed up for special occasions, and it never needs to be boring. By learning basic techniques, you can adapt recipes to suit your family's taste. Crumbing chicken is a technique that can be changed every time you cook, to give different flavors and textures to the chicken.
Crumbed Chicken Basics
Crumbing chicken is a three-step process. First, the chicken is lightly coated in flour. Next, it is dredged in eggs, which can be mixed with milk, buttermilk or creamy dressing. Finally, the chicken is coated with breadcrumbs. The crumbed chicken can be baked or fried. There are many ingredients that you can add to the bread crumbs to give different flavors. Dried herbs and spices, Parmesan cheese, ranch-flavored seasoning mix, sesame seeds or even nuts can be added to the coating. Make sure that any ingredients added to the bread crumbs are finely chopped or shredded, so they have a similar texture to the crumbs.
Casual Meals
Crumbed chicken can be used in many kid-friendly, casual dinners. The technique works well when making chicken nuggets or chicken strips. By using chicken breasts and baking them, the result will be healthier than fast food versions. Serve these with a selection of dipping sauces, such as honey mustard, BBQ, sweet and sour sauce, or creamy dressing. If your family likes drumsticks the best, these also crumb well.
Special Occasions
Crumbed chicken can be used to make classic favorites, like chicken Parmesan. Parmesan cheese and herbs like basil and oregano are good additions to the bread crumbs when making Italian recipes. Top the crumbed chicken with marinara sauce and mozzarella cheese and bake the dish until the cheese has melted. Serve the chicken over spaghetti for a meal that can please the whole family. Or, make a dish with an Asian flair by adding soy sauce to the egg coating and mixing sesame seeds into the bread crumbs.
Leftovers
Turning your leftovers into something different is a great way to save cooking time without having to eat the same dish every day. Leftover crumbed chicken can be used to make quick and easy lunch options that can be served at home or taken to work or school. Cold chicken can be served on rolls as the protein for a sandwich or sliced and used to top salads with creamy dressings. Reheating crumbed chicken in the microwave will leave the crust soggy. Instead, try using your oven or toaster oven, set at 350 degrees, to reheat the chicken.
References
Writer Bio
Kimberly A. Smith has been a freelance writer for two years. She graduated from the University of California at Davis and the California Culinary Academy, then pursued a career baking wedding cakes. During her time at CCA, she received certification in nutrition and food safety. She currently attends the University of Oregon School of Law.
Photo Credits
George Doyle/Stockbyte/Getty Images