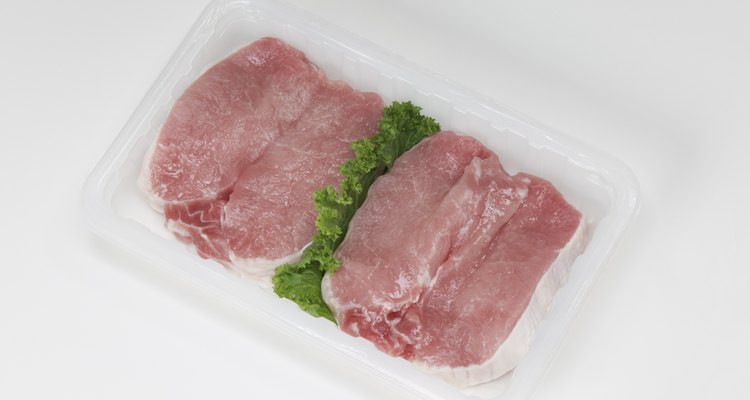 Jupiterimages/liquidlibrary/Getty Images
Break out of your pork chop and butt rut and make a quick, tasty dinner of oven-baked pork tenders. Unlike chicken tenders, which are an actual cut of the bird, you have to cut pork tenders from center-cut boneless pork chops. Pork tenders are lean and have a mild taste, so they lend themselves to a variety of flavors. Oven-bake the tenders for a quick, easy meal that is sure to please the pickiest of palates. Oven baking keeps the tenders juicy while minimizing added fat so your meal stays healthy.
Marinated Pork Tenders
Step 1
Cut the pork chops into strips about the 1-inch thick.
Step 2
Place the strips in a shallow, non-aluminum baking pan. Top with a store-bought marinade, such as teriyaki or barbecue sauce. Mix to coat all the strips -- it is OK if they overlap. Or, make your own marinade by mixing together an acidic ingredient, such as citrus juice, with seasonings and cooking oil. Cover and refrigerate for several hours or overnight.
Step 3
Heat the oven to 370 degrees Fahrenheit. Spray a separate shallow non-aluminum baking pan with nonstick cooking spray. Remove the tenders from the marinade and place them side by side in one layer on the dish. Top with a spoonful or two of marinade, if you wish.
Step 4
Bake for 20 minutes, or until the tenders are no longer pink inside -- approximately 145 degrees Fahrenheit as measured using a meat thermometer. Exact cooking time will depend on how thick you cut the pork tenders. Allow them to rest in their pan for three minutes before serving.
Breaded Pork Tenders
Step 1
Cut the pork chops into 1-inch-thick strips. Heat oven to 400 F.
Step 2
Place some flour in one bowl, beaten egg in another and breadcrumbs in a third bowl. Spray a baking sheet with nonstick cooking spray.
Step 3
Dip each strip individually into flour, then beaten egg and finally the breadcrumbs. Use one hand to keep the other one clean. Shake off any excess breadcrumbs and place the tender on the baking sheet. Repeat until you have coated all the tenders. Space the tenders about 1/2 inch apart.
Step 4
Place the sheet in the preheated oven and bake until the temperature of the pork reaches 145 degrees Fahrenheit, or until the strips are no longer pink inside -- approximately 15 minutes. Flip the tenders halfway through the cooking process to ensure even browning. Measure the temperature of the strip by inserting a meat thermometer into the thickest portion of the strip.
References
Writer Bio
Andrea Cespedes is a professionally trained chef who has focused studies in nutrition. With more than 20 years of experience in the fitness industry, she coaches cycling and running and teaches Pilates and yoga. She is an American Council on Exercise-certified personal trainer, RYT-200 and has degrees from Princeton and Columbia University.
Photo Credits
Jupiterimages/liquidlibrary/Getty Images