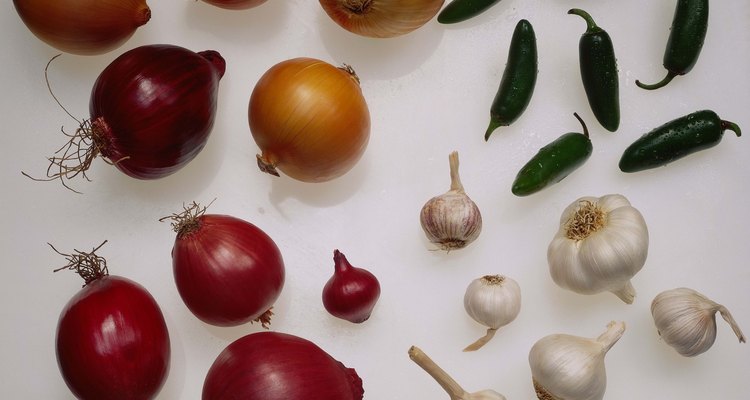 Jupiterimages/Stockbyte/Getty Images
Pearl onions really are the "pearls" of the allium family, and not just in appearance. You can find fresh pearl onions year-round, filling the void between September and March when sweet onions are in limited supply. They have a delicate, sweet taste and mild aroma, neither obtrusive nor weak, and hardly ever tear-inducing. Creamy white pearls are at home in a classic French blanc sur blanc, or white on white preparation, simmered in cream. Gold and red pearls love the saute pan, which gives them a prized caramelized exterior.
The Cream Team
Step 1
Blanch the onions for two minutes in boiling salted water or stock and scoop them out using a slotted spoon. Hold the onions under cold running water in a colander to cool them, then trim the tips off and slice a shallow "X" at each end. Squeeze the onions over a bowl to peel them. The onions will slip out of their skin and into the bowl. Drain all the water but a cup or two and reserve.
Step 2
Cook equal parts butter and flour in a heavy-bottomed saucepan on the stove over medium-low heat for about five minutes, whisking frequently.
Step 3
Add the stock to the saucepan while whisking vigorously. Add the onions to the saucepan.
Step 4
Bring the stock to a boil and reduce the heat so it barely simmers. Simmer the onions until they pierce easily with the tip of a paring knife, about 15 minutes.
Step 5
Add fresh herbs to the cream sauce, if desired. A little freshly chopped thyme and rosemary go nicely with creamed pearl onions, as does a bit of freshly grated nutmeg.
Step 6
Lower the heat to low and give the onions a few minutes to cool. Pour heavy cream in the saucepan, whisking to incorporate.
Step 7
Season the cream sauce to taste with kosher salt and freshly ground black pepper, then squeeze just enough lemon juice in to "cut" the fat. If you want a classic blanc sur blanc presentation, use white pepper instead of black. Turn the heat off.
Step 8
Heat the oven to 325 degrees Fahrenheit. Toast panko breadcrumbs in butter in a nonstick saute pan over medium heat until golden brown, tossing occasionally, and set aside.
Step 9
Pour the creamed onions in an oven-safe dish and sprinkle the toasted breadcrumbs over the top. Bake the creamed onions about 20 to 25 minutes, or until you see the sauce bubbling.
Caramelized and Prized
Step 1
Blanch and peel the onions and season them to taste with kosher salt and freshly ground black pepper.
Step 2
Melt enough butter reach about 1/4 to 1/2 inch deep in a heavy-bottomed saute pan over low heat. Add the onions to the butter.
Step 3
Add freshly chopped herbs to the onions and cover the saute pan. Cook the onions, stirring occasionally, until they can be pierced easily with a knife, about 15 minutes.
Step 4
Pour off the butter and adjust the heat to medium. Cook the onions until caramelized and golden brown all over, about three minutes. Transfer the onions to a serving dish.
References
Tips
If you want save time, you can use frozen, peeled pearl onions in most recipes without sacrificing quality.
Writer Bio
A.J. Andrews' work has appeared in Food and Wine, Fricote and "BBC Good Food." He lives in Europe where he bakes with wild yeast, milks goats for cheese and prepares for the Court of Master Sommeliers level II exam. Andrews received formal training at Le Cordon Bleu.
Photo Credits
Jupiterimages/Stockbyte/Getty Images