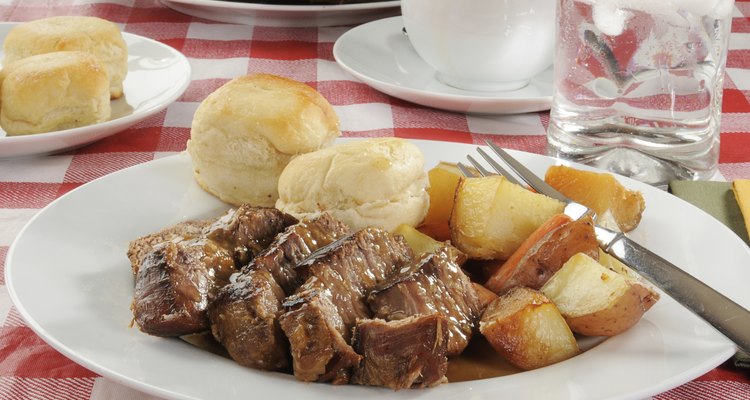 MSPhotographic/iStock/Getty Images
Making pot roast in a slow cooker can help ease the strain of preparing a home-cooked meal at the end of the day. If you have a few minutes before you need to put the roast in the Crock-Pot, pan searing your roast in a few teaspoons of canola oil on all sides will help seal in the juices and give you a nicely browned, very tender roast.
Select a chuck roast, brisket or a round roast to cook in your slow cooker as these roasts are best suited for long, slow cooking compared to prime cuts of beef; rinse your meat.
Pat the roast dry with paper towels then season with 2 tsp. of garlic powder and ½ tsp. of black pepper.
Pan sear or braise your roast, or place it directly into the crock pot.
Sprinkle one envelope each of brown gravy, Italian dressing and ranch dressing dry mixes over the roast.
Pour 1½ cups of water over the top of the roast.
Add two cans of condensed cream of mushroom, stirring around the roast to completely combine; rotate the roast one time.
Cover the roast with 8 oz. of fresh sliced button mushrooms and 8 oz. of fresh sliced shiitake or crimini mushrooms. Submerge as much of the mushrooms in the broth as you can.
Turn the heat to low, cooking your roast for eight to 10 hours. If possible, add quartered potatoes about two hours before the cooking time is up. Add raw carrots and celery to the roast one hour before you eat.
References
"Live Your Life for Half the Price"; Mary Hunt; 2005
"Cooking Essentials"; Cooking Club of American; 1999
Writer Bio
Paula Quinene is an Expert/Talent, Writer and Content Evaluator for Demand Media, with more than 1,500 articles published primarily in health, fitness and nutrition. She has been an avid weight trainer and runner since 1988. She has worked in the fitness industry since 1990. She graduated with a Bachelor's in exercise science from the University of Oregon and continues to train clients as an ACSM-Certified Health Fitness Specialist.
Photo Credits
MSPhotographic/iStock/Getty Images