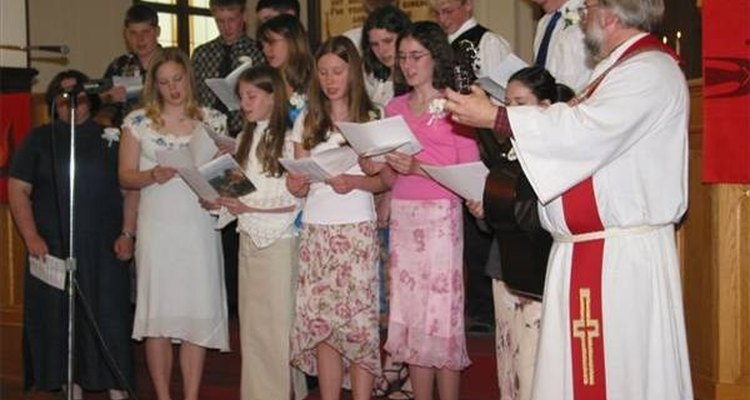 www.psglutheran.org
Confirmation is a time in a young person's life when they solidify their bond with the church. This religious milestone is typically marked with a church ceremony. It is customary for both boys and girls to dress well for the ceremony. Boys usually wear a suit or a nice shirt, tie and slacks, while girls tend to wear dresses. Unlike First Holy Communion dresses, which tend to be very formal, the dresses that are worn for confirmation are usually simpler dresses.
Ceremony
Depending on the denomination, the rite of confirmation can mean a couple of different things. In the Christian Church, the rite of confirmation is composed of anointing or laying of hands to bestow to the young person the Holy Spirit's gifts, and the person getting confirmed also becomes a full member of the church. In the Catholic religion, confirmation makes the bond with the church more perfect, since the person is already a full member of the church once she get baptized.
Significance
Though not nearly as big a deal as choosing a First Communion dress, choosing a nice dress for confirmation can also be important to a girl. She will want to look her best as she receives this sacrament. Confirmation dresses can be any nonformal dress from just about any department store. It should be a bit conservative (no low-cut or backless dresses). It should also be a dress that a young lady would wear, as opposed to one a little girl might choose. The dress should convey the message that the girl is an adolescent and she is growing up. Sometimes a robe is worn over the teen's clothing during the ceremony, so the dress that is chosen should be one she can wear to a nice restaurant afterward.
Time Frame
Church members are usually confirmed when they are teenagers. They must attend confirmation classes during which they are taught about their religion in preparation for their confirmation rite. The rite is performed during adolescence because church officials believe that children are at an age where they can decide to become full members of their church or to make more perfect their bond with the church.
Stores
Confirmation dresses can be purchased at virtually any department store. Your church may provide some guidelines for the type of dress it finds acceptable. Try any of the following department stores; you may be able to find a nice dress at a decent price: Dillards, Macy's, JC Penney, Sears, Belk or Kohl's. A confirmation dress can run anywhere from $39 to a couple hundred dollars, depending on where you purchase it and what type of dress you buy.
Considerations
The dress that a teen girl uses for confirmation should be practical, above all else. Choose a dress that can be worn for more than just the confirmation mass. Having a nice dress on hand is always a good idea because you never know when you might need it. Spending a lot of money on a confirmation dress is not necessary, either. You can usually find a decent style at a good price if you shop around.