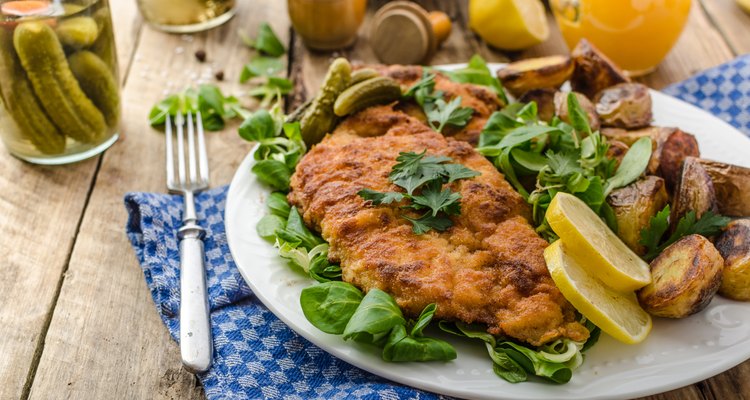 PeteerS/iStock/Getty Images
Schnitzel is a staple food of German cuisine, and it isn't easy to replicate. Many things can go wrong when making a schnitzel: undercooking leaves the breading and meat oily and soggy, while overcooking quickly burns the schnitzel and makes it crispier than desired. Finding the happy medium that leads to a good schnitzel may require some trial and error, but the process of making a schnitzel isn't overly complex. Plus, as you get comfortable handling the sensitive cook times of schnitzel, you can make changes to your recipe, altering ingredients and seasonings to enhance the flavor of the entree.
Thin the chops to 1/8-inch thick with a rolling pin or meat mallet. Sprinkle both sides of the meat with salt.
Whisk the egg and milk together in a bowl. Place the flour and bread crumbs on separate plates.
Coat the pork on both sides with the egg mixture, then dip them in flour and coat them with breadcrumbs. Repeat with all the chops.
Place a small amount of cooking oil in a skillet, and preheat the pan to medium heat.
Place the pork slices in your heated skillet, and let them cook for about three minutes per side, or until the breadcrumbs turn golden brown. Repeat with all pieces of pork.
Remove the chops from the pan, and set them on a paper towel to let the oil drain.
References
Writer Bio
Jonathan Croswell has spent more than five years writing and editing for a number of newspapers and online publications, including the "Omaha World-Herald" and "New York Newsday." Croswell received a Bachelor of Arts degree in English from the University of Nebraska and is currently pursuing a Master's of Health and Exercise Science at Portland State University.
Photo Credits
PeteerS/iStock/Getty Images