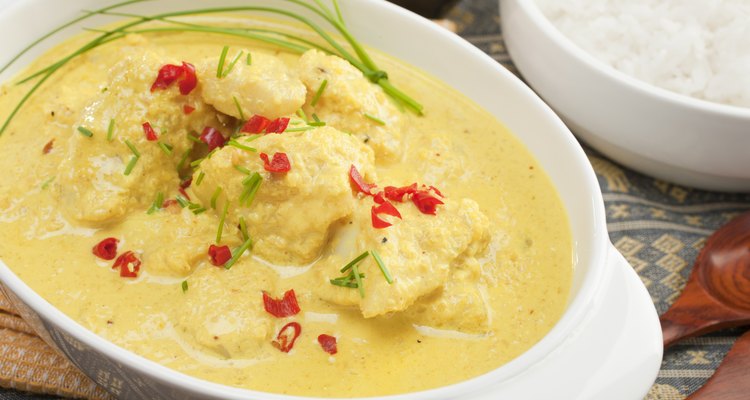 travellinglight/iStock/Getty Images
Curried fish is a Caribbean specialty. Using fillets instead of a whole fish makes the dish easier to prepare and enjoy. Tilapia is a good choice for this dish because the fillets have a mild flavor that allows the piquant curry and the onion and garlic to shine, yet the fillets are robust enough complement the strong flavors of the dish. You do not need fresh tilapia fillets for this dish; purchase frozen ones from the supermarket and defrost them, covered, in the refrigerator.
Heat the olive oil over high heat in a skillet until it begins to sizzle.
Reduce the heat to medium-high. Add the onion and sauté for two minutes, or until the onion begins to turn translucent. Add the garlic and sauté for one minute.
Add the curry powder, ground ginger and 1/2 cup of water and sauté for five minutes to allow the flavors to blend.
Place the fish fillets in the skillet and sauté the tilapia, uncovered, for 15 to 20 minutes. Turn the fillets with the spatula occasionally to ensure that they are cooking evenly. At the end of the cooking time the fish should be flaky and cooked through.
Remove the tilapia from the skillet and serve it hot with the curry sauce on top. Sprinkle the fillets with parsley to garnish.
References
Writer Bio
Natalie Smith is a technical writing professor specializing in medical writing localization and food writing. Her work has been published in technical journals, on several prominent cooking and nutrition websites, as well as books and conference proceedings. Smith has won two international research awards for her scholarship in intercultural medical writing, and holds a PhD in technical communication and rhetoric.
Photo Credits
travellinglight/iStock/Getty Images