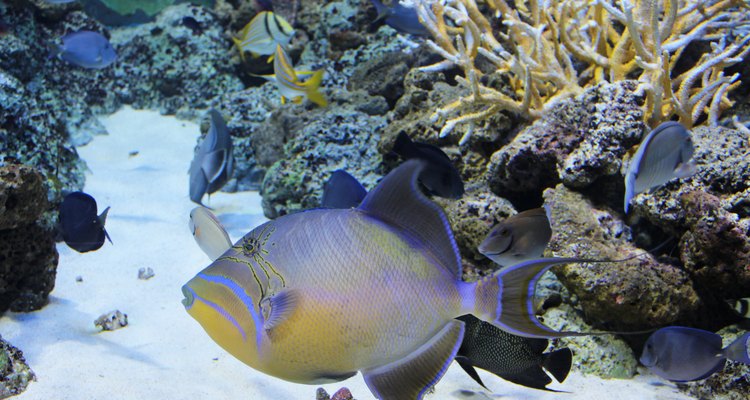 crystaltmc/iStock/Getty Images
Triggerfish are a species that live near coral reefs in tropical areas. They get their name from the way they lock the spine on their dorsal fins when they are alarmed. You can occasionally find fresh triggerfish at the market if you live near the seacoast. Triggerfish are light, thin fillets with a mild flavor that is suitable for baking, broiling or frying.
Bake
Preheat the oven to 350 degrees Fahrenheit.
Coat the bottom of a baking pan with olive oil to prevent the triggerfish from sticking.
Place the triggerfish in the baking pan and sprinkle lemon or lime juice over it. Season the triggerfish with salt and pepper to taste.
Place the pan in the oven and bake the triggerfish for eight minutes. Turn the fillets and bake for an additional eight minutes. The triggerfish fillets are thin and will cook quickly, so monitor them during the cooking process to ensure that they do not overcook. The fillets are fully cooked when they are opaque and flaky.
Take the triggerfish out of the oven and serve it hot.
Broiled
Baste the broiler pan and the triggerfish with a light coating of olive oil, and place the fillets in the pan. Sprinkle lemon or lime juice over the triggerfish and add salt and pepper to taste.
Place the broiler pan in the oven and broil the fish for two minutes. Turn the fish and baste it with more lemon juice if the fish looks dry. Return the fish to the oven and broil them for two more minutes. Watch the fillets very closely to make sure that they do not overcook. The fish is ready when the fillets are opaque and flaky.
Take the triggerfish out of the oven and serve the fillets hot.
Fried
Crack the eggs into a bowl, season them with salt and pepper, and mix them with a wire whisk. Place the flour in another bowl.
Cut the triggerfish fillets into 2-inch square pieces. Dredge each nugget in the egg and then in the flour. For an extra-thick coating, repeat the process.
Heat 4 cups of vegetable oil in a deep skillet over high heat. When the oil gets to 375 degrees Fahrenheit, it is ready.
Add the triggerfish nuggets a few at a time and fry them for 10 minutes, turning the nuggets occasionally to make sure that they are cooked evenly.
Remove the triggerfish with the skimmer and place them on a plate covered with paper towels to drain. Serve the triggerfish nuggets hot.
References
Writer Bio
Natalie Smith is a technical writing professor specializing in medical writing localization and food writing. Her work has been published in technical journals, on several prominent cooking and nutrition websites, as well as books and conference proceedings. Smith has won two international research awards for her scholarship in intercultural medical writing, and holds a PhD in technical communication and rhetoric.
Photo Credits
crystaltmc/iStock/Getty Images