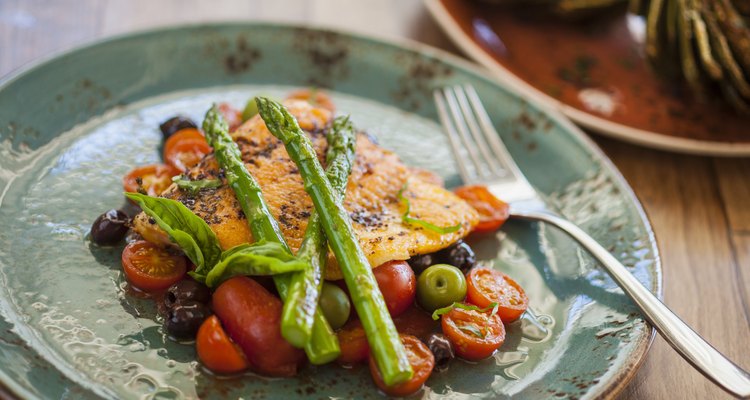 ChuckPlace/iStock/Getty Images
If you enjoy the taste and texture of salmon but find the flavor too strong, you would enjoy arctic char. Arctic char is a species related to trout that lives in the glacial lakes of Alaska, Canada and England and has a mild flavor reminiscent of salmon. Like salmon, arctic char is a good source of omega-3 fatty acids, but it does not have the same contamination problems with polychlorinated biphenyls, commonly known as PCBs, and heavy metals. The most common ways to cook arctic char include poaching the fillets in court bouillon and pan-searing the fillets.
Poached Arctic Char
Pour the water into the heavy skillet and add the onion, carrot, celery, wine and bay leaf. Bring the mixture to a boil over high heat. This broth is the court bouillon, which is the classic poaching solution for fish.
Turn the burner off and let the court bouillon cool for two minutes. Add the arctic char and turn the burner back to high. Bring the court bouillon to a boil again.
Reduce the heat to low and simmer the arctic char for 12 to 15 minutes. When the arctic char are ready, the flesh is opaque all the way through.
Remove the arctic char from the court bouillon with your spatula and add salt and pepper to taste. Serve the fish hot with roasted red potatoes or the side of your choice.
Pan-Seared Arctic Char
Rinse the fish fillets by running them under cool water. Dry them with paper towels and season them with salt and pepper to taste.
Heat the olive oil over medium-high heat. When the oil sizzles, add the arctic char in a single layer with the skin side down.
Cook the arctic char for three minutes, and then turn the fillets and cook the fish for an additional two minutes.
Remove the arctic char from the pan with your spatula, and serve them hot with lemon wedges for a garnish.
References
Writer Bio
Natalie Smith is a technical writing professor specializing in medical writing localization and food writing. Her work has been published in technical journals, on several prominent cooking and nutrition websites, as well as books and conference proceedings. Smith has won two international research awards for her scholarship in intercultural medical writing, and holds a PhD in technical communication and rhetoric.
Photo Credits
ChuckPlace/iStock/Getty Images