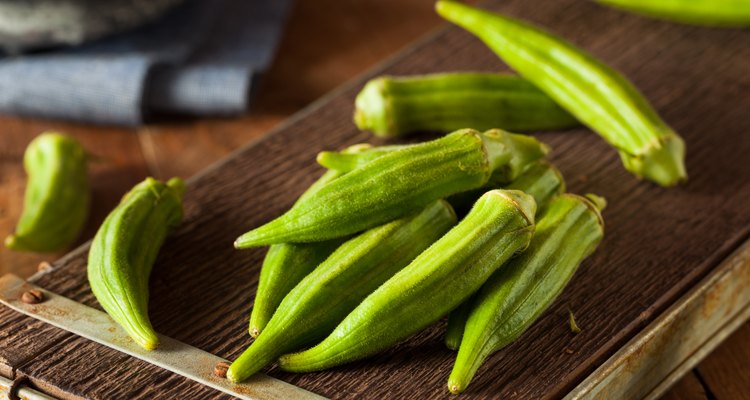 bhofack2/iStock/Getty Images
Other than to reheat food, the microwave has a bad reputation. You may believe that the microwave turns all food to sloppy mush, but in some cases that is not true. Okra cooks remarkably well in the microwave; the thick walls of the pods become tender but do not disintegrate. Contrary to the common misconception that okra is slimy and unpleasant, whole okra pods can be prepared in a number of ways, including microwaving, because the thickening paste inside the okra pod is only released when you slice the pods.
Cut off the stems at the top of the okra pods. Be careful not to cut the pods open or the paste inside the okra will be released and the okra will be slimy.
Place the okra in the microwave-safe bowl and pour in 3/4 cup of water. Cover the bowl with plastic wrap and place it inside the microwave.
Cook the okra for three to four minutes on high power.
Take the okra out of the microwave and carefully lift the plastic wrap to allow the steam to escape. Test an okra pod by inserting a fork into the pod. If the fork goes in easily, but the okra has still retained its shape and is still crisp, the okra is ready to eat.
References
Writer Bio
Natalie Smith is a technical writing professor specializing in medical writing localization and food writing. Her work has been published in technical journals, on several prominent cooking and nutrition websites, as well as books and conference proceedings. Smith has won two international research awards for her scholarship in intercultural medical writing, and holds a PhD in technical communication and rhetoric.
Photo Credits
bhofack2/iStock/Getty Images