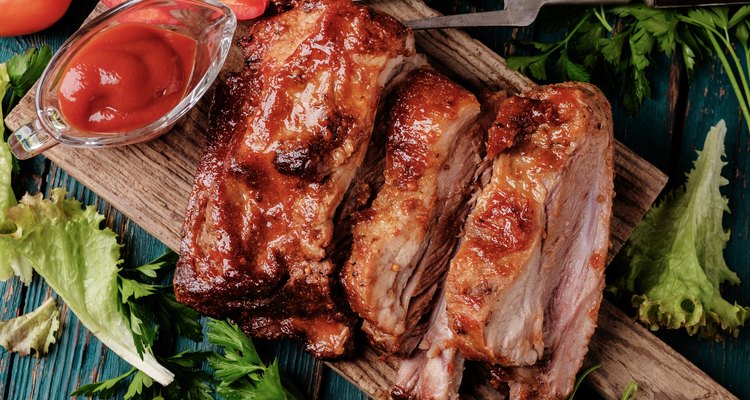 Fotoatelie/iStock/Getty Images
Chefs are always trying to master the ultimate pork rib recipe. When pork ribs are cooked properly, guests rave over the tenderness and the flavor. When pork ribs are not cooked properly, they are tough, probably a result of overcooking. There is a barbecue method called the "Texas Crutch" that wraps ribs in tin foil with apple juice for the last hour or so in the cooking process. A turkey oven bag is a substitute for this method, trying to keep moisture around the ribs and steaming ribs in the cooking process.
Grill Texas Crutch
Prepare the ribs as you would for normal grilling. Remove the silver skin, trim the fat and apply a dry rub seasoning if you choose.
Heat up the grill on "Medium Low" heat. This is approximately 325 degrees Fahrenheit.
Place the ribs on the grill and cook for two to three hours as you normally would with the bone side on the grill.
Take the ribs off the grill with one hour left in the cooking process. Put the ribs in the bag and add 1 cup of apple juice. Seal the bag with the enclosed tie.
Put the bag on the grill, away from any flames. If you had all burners working on the grill, turn the right side off, placing the ribs over that side. Close the lid and cook for one more hour. Insert a meat thermometer into the deep part of the bag. A minimum of 145 degrees Fahrenheit is required for safe cooking of pork.
Oven Roasted
Preheat the oven to 325 degrees Fahrenheit.
Chop ribs in small sections, perhaps two ribs per section.
Mix your marinating sauce in a bowl using 1 1/2 cups of barbecue sauce, 1 tsp. of chili powder, 1 tsp. of garlic powder and 1 tsp. of dry mustard along with any other seasoning you want to enhance the flavor.
Place the ribs in the bag and pour the sauce over it. Shaking the bag to coat all rib surfaces.
Close the bag, laying the ribs in one layer on a roasting pan in the bag. Cut slits along the bag approximately 1/2 inch long at 2-inch intervals. Place in oven on center rack for 1 1/2 hours. Insert meat thermometer to check doneness in between the ribs.
References
Writer Bio
With more than 15 years of professional writing experience, Kimberlee finds it fun to take technical mumbo-jumbo and make it fun! Her first career was in financial services and insurance.
Photo Credits
Fotoatelie/iStock/Getty Images