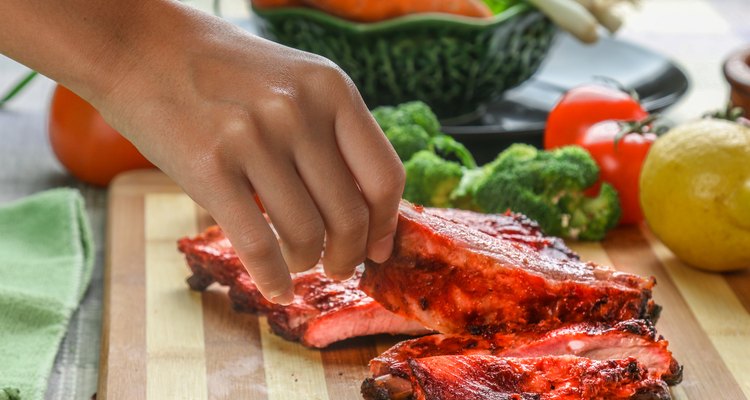 danny4stockphoto/iStock/Getty Images
Chinese red pork ribs, or char siu, have a distinct deep pink, glossy coating and a rich, sweet flavor. If prepared correctly, the rib's meat is tender and falls off the bone. You can find most of the ingredients from your local Asian grocer or health food store. Baby backs have a lower fat percentage than other pork ribs and are the healthiest option for char siu. This recipe yields approximately eight servings.
Combine 1/3 cup honey, the hoisin sauce, brandy, soy sauce, sesame oil, hot sauce, ginger, garlic, five spice powder, onion powder and red food coloring in a mixing bowl. Stir with a wooden spoon to blend the marinade thoroughly. If any of the powdered ingredients clump up, smash them against the side of the bowl with the back of the spoon.
Split the marinade evenly between two freezer bags. Place one slab of baby back ribs into each freezer bag, press the air out and seal. If the ribs do not fit in the freezer bags, slice the slabs in half with a sharp knife.
Place the ribs into the refrigerator and leave them to marinate for 6 to 12 hours. The longer you allow the ribs to marinate, the richer their flavor and color will be.
Fill one baking pan halfway with water and place it on the lower rack of the oven. Preheat the oven to 300 degrees Fahrenheit.
Place the marinated ribs into an empty baking pan and set on the top rack of the oven, above the pan of water. The pan of water will evaporate slowly while the ribs cook, keeping the meat moist. Cook the ribs for 70 minutes.
Use a baking brush to coat the exposed side of the ribs with the remaining honey. Cook the ribs for an additional 10 minutes and remove them from the oven.
Allow the meat to rest for 10 minutes before cutting the ribs individually and serving.
References
"The Best Recipes in the World"; Mark Bittman; 2005
"Paul Kirk's Championship Barbecue Sauces"; Paul Kirk; 1997
Writer Bio
Serena Styles is a Colorado-based writer who specializes in health, fitness and food. Speaking three languages and working on a fourth, Styles is pursuing a Bachelor's in Linguistics and preparing to travel the world. When Styles isn't writing, she can be found hiking, cooking or working as a certified nutritionist.
Photo Credits
danny4stockphoto/iStock/Getty Images