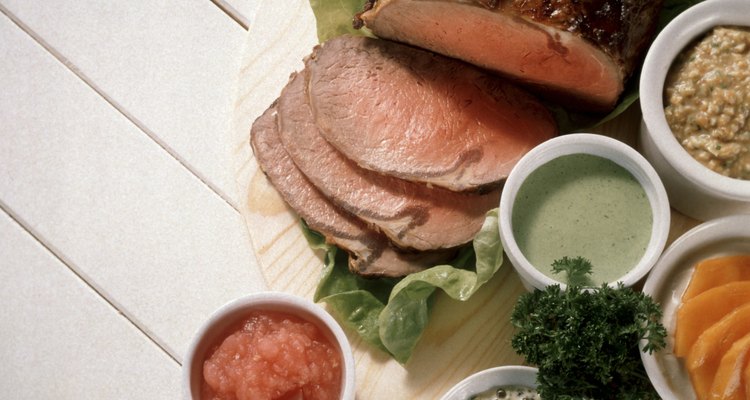 Eising/Photodisc/Getty Images
Cooking a roast in a browning bag with dried onion soup mix results in a tasty, tender finished product with a minimum of preparation. In fact, all of the prep can be done in the time it takes the oven to preheat. It's a "no fail" method for less-experienced home cooks, and an invitation to the more skilled to experiment with variations on the basic method. More commonly called an oven bag, the handy nylon bags can be found in the plastic wrap aisle at the market.
Step 1
Prepare the meat by trimming off any excess fat with a paring knife. Leaving some fat on the roast will help it stay moist while it cooks, but leaving too much will have your roast sitting in a grease bath. Trim off the remaining fat after the roast comes out of the browning bag. Using a knife, puncture the meat in several places on each side. This allows the flavor to penetrate the roast.
Step 2
Read and follow the instructions for the cooking bag. Some manufacturers recommend dusting the inside of the browning bag with flour. Place the roast in the bag and sprinkle it with the French onion soup mix. Place the bagged roast in a shallow roasting pan and use the twist tie that came with the bag to close it. Check the instructions again to see whether the manufacturer recommends cutting slits in the top of the bag.
Step 3
Cook the roast in a preheated oven until it reaches the proper temperature. Most beef and pork roasts cook at 325 degrees for 20 and 35 minutes a pound. The differences in time account for the type of roast and whether your roast is bone-in or boneless; bone-in roasts cook more quickly. Tenderloin is the exception. Cook whole tenderloins for 45 minutes to an hour, total, at 425 degrees Fahrenheit. Beef and pork are done when the internal temperature reaches 145 degrees as measured with a meat thermometer.
Step 4
Remove the roast from the oven and carefully open the bag. Take the roast out and pour the flavored drippings into a small saucepan to make gravy. Mix a couple of tablespoons of flour with cold water in a small bowl. Heat the drippings from the roast and add the flour and water mixture to the drippings, whisking constantly until the gravy is the desired consistency.
References
Writer Bio
Meg Jernigan has been writing for more than 30 years. She specializes in travel, cooking and interior decorating. Her offline credits include copy editing full-length books and creating marketing copy for nonprofit organizations. Jernigan attended George Washington University, majoring in speech and drama.
Photo Credits
Eising/Photodisc/Getty Images