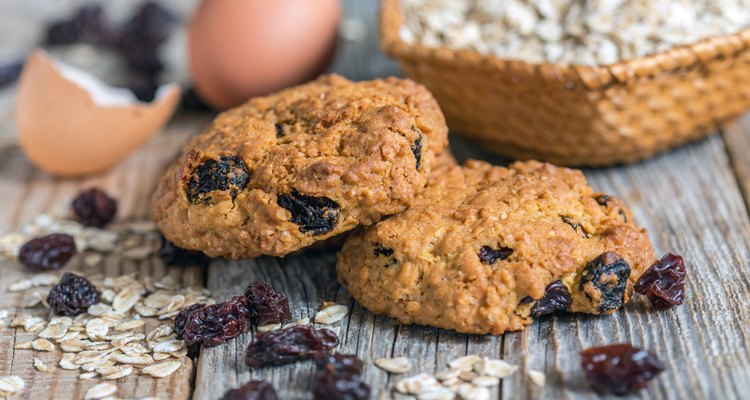 SMarina/iStock/Getty Images
Baking soda adds volume to baked goods and is the reason a cookie becomes airy and fluffy. Eliminating sodium bicorbonate for the sake of reducing sodium in the diet doesn't have to be a bad thing. You can make a cookie without baking soda and end up with a desirable and chewy texture.
Ingredients
A gooey, liquid sugar of a natural source such as brown rice syrup or honey makes an efficient sweetener. To make an oatmeal raisin cookie, you want to choose a neutral-flavored fat, such as almond butter, but for other recipes, you could use peanut butter. For substance, use chopped walnuts or peanuts, quick oats, a solid oil or butter; coconut oil makes a tasty heat-tolerant substitute. Add raisins, cinnamon and nutmeg, or other desired spices.
Recipe
Author Linda Rector-Page bases one recipe on her dairy-free sesame oatmeal cookies. For oatmeal raisin cookies, combine 1/2 cup of brown rice syrup, 1/4 cup of almond butter, 1/4 cup of extra virgin coconut oil, softened, 1 1/3 cups of quick oats, 1/2 cup of raisins, 1/2 tsp. of cinnamon and 1/4 tsp. of nutmeg. You can add a bit of stevia for added sweetness. Next, spoon tablespoonfuls onto a cookie sheet coated with cooking spray. Bake in a 350-degree oven for 13 to 15 minutes or until the edges are lightly browned. Cool before removing from the pan.
Baker's Notes
Due to the lack of egg and baking soda, there's not an abundance of holding power in the batter, so the cookies will spread thin -- a desirable result. But you want to leave enough space on the sheet for each cookie to spread. Store these cookies flat and in a cool place. Refrigerate in warmer weather. Bring back to room temperature to serve. If you want to create a cookie just like one made with baking soda, you may not find the perfect solution. Some bakers have used mixtures of baking powder, cream of tartar and buttermilk.
Nutritional Considerations
The main reason for not using baking soda may be to reduce sodium in your diet, but generally, baking soda is not a bad ingredient in baked goods, as it is a natural substance. Cook's Thesaurus says potassium bicarbonate can substitute for sodium bicarbonate and is available in pharmacies.
References
"Cooking For Healthy Healing"; Linda Rector-Page; 1991
Resources
"Cooking For Healthy Healing"; Linda Rector-Page: 1991
Writer Bio
Charlene Ryan began freelance writing in 2011. She is a certified fitness trainer and natural health consultant who works at her local YMCA. Ryan earned a Bachelor of Science in holistic nutrition from the Clayton College of Natural Health.
Photo Credits
SMarina/iStock/Getty Images