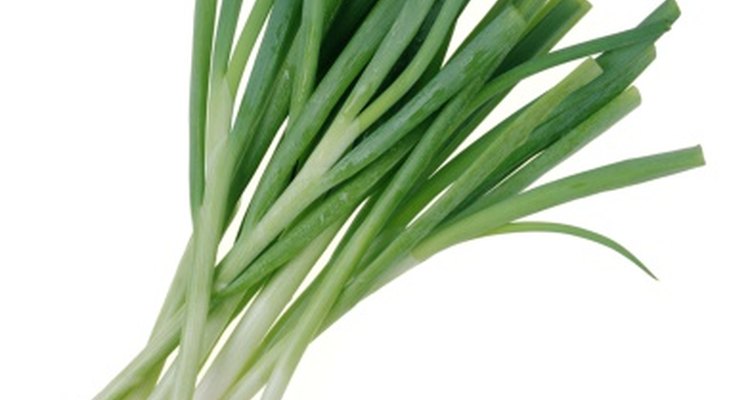 Jupiterimages/Comstock/Getty Images
Finding new, fresh dip ideas can be a challenge. Finding ones that are both healthy and tasty can make the search even harder, since the basis for most dips is mayonnaise, sour cream, cream cheese or other creamy, high-fat foods. Fortunately, low-fat and fat-free alternatives exist. Mayonnaise, soy sauce and scallions may seem like an odd combination, but the resulting dip has a tangy, rich taste that is perfect for fresh vegetables.
Put 2 cups fat-free mayonnaise into a large bowl. Two cups is appropriate for a party of a dozen people or so. Adjust the measurements according to how many people you need to feed.
Add 1/4 cup of soy sauce and about 1/4 tsp, of dried ginger to the mayo. Mix them together with a spoon, and then taste the dip. Adjust the proportions to suit your individual taste.
Wash a bunch of scallions in cool water, and dry them well with paper towels. Set them on a cutting board, and slice off the bottom ends. Chop three to four scallions, or until you have about 1/2 cup.
Add the chopped scallions to your mayonnaise mixture and stir well. Adjust the proportions to your taste, adding more scallions if you like a crunchier texture.
References
Tips
Use fat-free sour cream or nonfat plain yogurt instead of mayo for a tangier dip.
Warnings
Do not make this dip the day ahead, because the scallions will get limp.
Writer Bio
Brynne Chandler raised three children alone while travelling, remodeling old homes, taking classes at the Unioversity of California Northridge and enjoying a successful career writing TV Animation. Her passions include cooking, tinkering, decorating and muscle cars. Brynne has been writing fun and informative non-fiction articles for almost a decade. She is hard at work on her first cookbook, which combines healthy eating with science-based natural remedies.
Photo Credits
Jupiterimages/Comstock/Getty Images