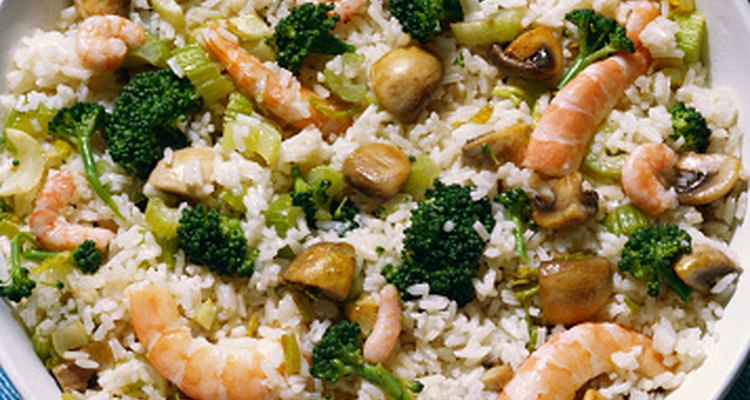 Eising/Photodisc/Getty Images
Broccoli and rice complement each other when they are combined into one dish. Separately, neither food is a complete protein, but when you put them together, the result is a protein that delivers all of the amino acids you need. For example, a serving of broccoli and rice is an excellent source of vitamins K and C. It also delivers a good amount of vitamin A, folate, B6 and iron. An enjoyable broccoli and rice dish can be created with minimal effort while the addition of a few ingredients creates a great casserole.
Broccoli and Rice
Defrost the broccoli and squeeze it in a dry kitchen towel to remove as much moisture as possible.
Clean the red bell pepper by rinsing it, cutting off its top, and cutting it in half so that you can remove the core and seeds. Chop the pepper into bite-sized pieces.
Pour the chicken broth into a pan and bring it to a boil.
Add the rice, wait until the broth returns to a boil, then reduce the heat and simmer for 15 minutes.
Add the bell pepper and broccoli to the rice and continue cooking another two to five minutes, or until the vegetables are heated.
Broccoli and Rice Casserole
Preheat the oven to 350 degrees Fahrenheit.
Cook the broccoli and rice according to the directions on their packaging.
Pour the cream of mushroom soup, cream of chicken soup and water into a saucepan over low heat.
Stir in the American cheese gradually, letting it melt before adding more. Continue stirring until all of the cheese is melted and the ingredients are mixed together.
Melt the butter in a skillet and cook the celery and onions over medium-high heat until they're soft.
Mix together the broccoli, rice, soup and cheese mixture, celery and onion in a bowl. Add salt and pepper to taste.
Pour the mixture into the baking dish and bake for 45 minutes.
References
Tips
You can add cooked shrimp, leftover chunks of chicken, ham or sauteed mushrooms to either dish.
Writer Bio
Sandi Busch received a Bachelor of Arts in psychology, then pursued training in nursing and nutrition. She taught families to plan and prepare special diets, worked as a therapeutic support specialist, and now writes about her favorite topics – nutrition, food, families and parenting – for hospitals and trade magazines.
Photo Credits
Eising/Photodisc/Getty Images