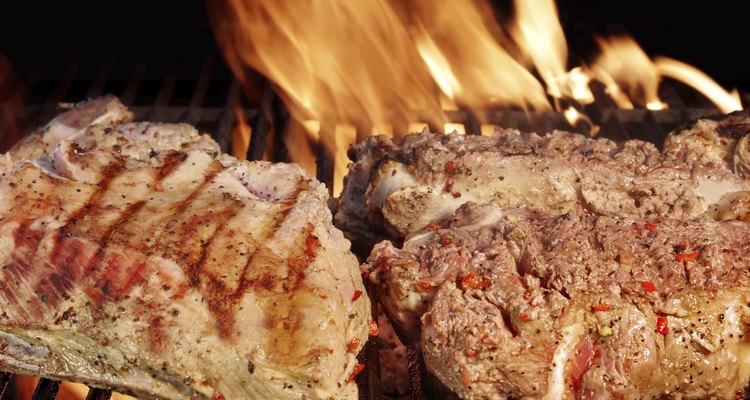 aruba200/iStock/Getty Images
A rib fillet, or rib roast, is similar to prime rib. Both come from the rib section of the cow. The only difference is that the rib fillet is a slightly different cut because it does not have the bones. When cooked properly, a rib fillet is a tender and flavorful cut of meat. You need to use a rack to keep the meat from touching the hot bottom of the roasting pan, which can overcook your meat.
Preheat the oven to 500 degrees Fahrenheit.
Add the lemon peel and herbes de Provence to the softened butter. Rub the herbed butter onto the meat – cover the entire roast. Sprinkle kosher salt onto the roast, to taste.
Put the rib roast in the roasting pan. Cover the pan and bake in the 500-degree oven for 25 minutes. After 25 minutes, turn the heat down to 325 degrees and let the meat cook for 15 minutes per pound or until the meat thermometer shows the center has reached 125 degrees.
Remove the meat from the oven and put it on a serving platter and cover it with aluminum foil. Let it rest for 15 to 20 minutes, to let the juices spread throughout the meat.
References
"Culinary Arts Principles and Applications"; Michael J. McGreal; 2008
"Field Guide to Meat: How to Identify, Select, and Prepare Virtually Every Meat, Poultry, and Game Cut"; Aliza Green; February 2005
Writer Bio
Max Whitmore is a personal trainer with more than three years experience in individual and group fitness. Whitmore has a Bachelor of Arts in English literature from the University of Cincinnati, fitness certifications and dietetics training from Cincinnati State Technical and Community College. Whitmore has written for several online publishers.
Photo Credits
aruba200/iStock/Getty Images